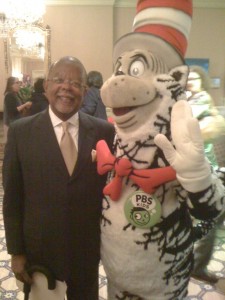 The PBS sessions are a high point of the TV Critics Association because the panels, like the programming, offers such a wide variety. Kids programming, "Downton Abbey," a big array of documentaries, a serious broadcast news staff, substantial history and at the end of the day, The B-52's performing.
There were tantalizing details on the Clinton administration from a panel on a forthcoming bio, Michael Feinstein crooning Gershwin and answers to questions too, the wife of the attorney general of the U.S. discussing lingering slavery at the turn of the last century, and the man from the famous Obama beer summit, right, discussing the genes of Branford Masalis and posing with the Cat in the Hat.
The morning had a slow start (a cooking show had little interest than the puppet shows that usually get the breakfast slot, turns out) but picked up with the executive session from PBS president Paula Kerger, who could crow about achievments and numbers, duel with Congressional would-be fundcutters and end the night wriggling to the finest party band from Athens.
Because a morning session on election coverage from PBS quite naturally concentrated on the still new results of the Iowa caucus and its even more recent fallout, some of its panelists got cranky about the quality of the conversation. While Jeff Greenfield, now of "Need to Know," was refreshingly frank ("I hate the caucuses! They're fraudulent. They're undemocratic."), Ray Saurez accused the room of not being (as good) journalists.
"Might anybody want to talk about news and public affairs and covering the election, which we all flew 3,000 miles here to do?" he complained. Someone came up with a question.
In the afternoon, Henry Louis Gates Jr., was more congenial in explaining the upcoming series "Finding Your Roots," which grew out of his DNA and genealogy series on African Americans.
It was a surprise to see Dr. Sharon Malone, wife of the U.S. Attorney General Eric Holder, on a panel for the upcoming film and Sundance entry "Slavery by Another Name" from Douglas A. Blackmon, the Pulitzer Prize-winning author of the book it is based on, and filmmaker Sam Pollard. But reading his book prompted her to look into the history of her own family.
Michael Feinstein has a second season of his "American Songbook" series starting next month, but can't appear anywhere without turning it into entertainment, so played on a Steinway baby grand, sang standards, extolled the influence of Liberace, and even sang back the answer to my question.
But the best thing might have been The B-52's, signaling that PBS pledge drives had gone beyong the endless doo-wop concerts, cheesy waltzes and tenors of all descriptions, to deliver still-vital music from a new generation.
But was it PBS type music, I wondered?
"Yes," Fred Schneider said in his famous deadpan. "Because we're very intelligent."