The cast of "Morning Joe" was flown all the way out to California for a morning TV critics winter press tour panel to tout their MSNBC success.
Though it was in the middle of a crazy time in news – they were flying directly back to New Hampshire for the primary – it was important to have face time here, especially in changes that were coming to morning news, said Mika Brzezinski after the session.
Their latest competition was someone with whom she was very familiar. Gayle King began her stint with Charlie Rose as new hosts of "CBS This Morning."
Decades ago Brzezinski and King both worked at Hartford's WFSB Channel 3; King was anchor for many years and launched a daytime syndicated show from the city, in the manner of her famous "best friend" Oprah Winfrey.
Brzezinski began her career in Hartford at WTIC Channel 61 in 1990 before moving to WFSB the following year, where she rose to morning anchor. Her husband Jim Hoffer of WABC New York, is a former reporter for WTNH Channel 8.
"Gayle's good," Brzezinski said after. "They're going to find out how good she is."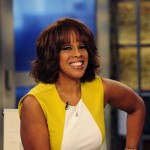 For her part, King appeared at the TV Critics press tour Wednesday via satellite with the rest of her new cast for "This Morning," Rose as well as Erica Hill, on the day that her interview with Michelle Obama aired.
"I wanted to get through the first day and after the first day I knew we could relax," King says of new CBS morning show.
There is another connection with "Morning Joe" – New "This Morning" producer Chris Lict worked there. But he said "there's very little that carries over from the other show."
Except maybe the Hartford roots.