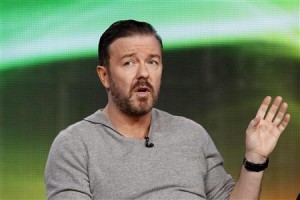 A packed day of cable presentations at the TV critics' winter press tour Friday began with Ricky Gervais' hilarious new series "Life's Too Short." But because his higher profile gig, hosting the Golden Globe Awards Sunday for the third time, people were betting on who'd be his celebrity targets this time.
" I have specific targets," Gervais says. "I've written the gags. But 'targets' is a word I wouldn't use. 'Subjects.'"
Besides, he adds, "What sort of a bet is that? Really?"
But he did announce his plans: "I'm going to do a monologue about the year and then introduce six or seven people throughout the show like I did last year.
"But I've got nothing against any of those people in the room," Gervais says. "I've worked with many of them. I like many of them. I admire most of them. It's like they're just gags. I'm not trying to, you know, hurt anyone's feeling or give them a bad night or undermine the moral fabric of America."
"I'm a comedian," Gervais says. "I'd rather they laughed than gasped, but I cherish the gasps along with the laughs.
Although advertising for the Globes center on Gervais in a gag, he says, "I think that everyone took it well. I don't know who was really outraged last year, because everyone I spoke to who made a joke about was cool with it.
Outrage breeds outrage, Gervais says. "If someone says, 'I'm outraged' and then someone says there was outrage, then there's outrage. But I don't think there was. Was there?
What did I say that was so outrageous?"
Then he paused.
"Oh, yeah, I just remembered."