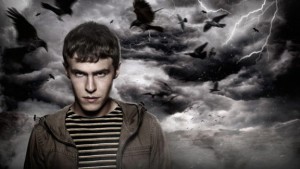 A new twist to an old premise makes the series "The Fades" (BBC America, 9 p.m.) seem promising.
Writer Jack Thorne, of "Skins" and "Shameless" fame, follows another young person, in a 17 year old played by Iain De Caestecker, right, who is rattled by dreams that are caused by a special ability tosee souls in pergatory, awaiting resolution (who are called "fades"). It's well set up, with a cast that includes Lily Loveless, Johnny harris, Natalie Dormer, Sophie Wu and Daniela Nardini, it seems smarter than most such dabblings into the spiritual worlds.
After a few years of cable exile, the Miss America Pageant (ABC, 9 p.m.), from Planet Hollywood Hotel & Casino in Las Vegas, is back on broadcast TV, in an event hosted by two different ABC reality show hosts, Brooke Burke-Charvet of "Dancing with the Stars" and Chris Harrison of "The Bachelor."
There are network ties to the panel of judges including "Good Morning America" reporter Lara Spencer. Dancer Mark Ballas, "Bachelor" producer Mike Fleiss, actress Teri Polo of "Man Up!," Chris Powell of "Extreme Makeover: Weight Loss Edition," Also: Kardashian mom Kris Jenner and Univision host Raul de Molina.
With Tebow fever sky high, I'm predicting the NFL divisional game of Denver at New England (CBS, 8 p.m.) will set playoff records. Earlier it will be New Orleans at San Francisco (Fox, 4:30 p.m.).
Premium cable movies tonight include many winners from last year's Oscars, including Natalie Portman in "Black Swan" (HBO, 8 p.m.), Colin Firth in "The King's Speech" (Showtime, 8 p.m.). Films last year that didn't reach those levels include "The Company Men" (Showtime 2, 8 p.m.), "Charlie St. Cloud" (HBO Family, 8:30 p.m.),  Joaquin Phoenix' weird hoax "I'm Still Here" (Showtime, 10 p.m.) and "Red" (Showtime2, 10 p.m.).
Arcade Fire plays a new "Austin City Limits" (PBS, 9 p.m.).
Mars is on course to crash into us in the new TV movie "Collision Earth" (Syfy, 9 p.m.). In another new TV movie, Teri Polo and James Patrick Stuart star in a romance among chefs in "A Taste of Romance" (Hallmark, 9 p.m.).
There are lot of same week repeats on network TV tonight including "Wipeout" (ABC, 8 p.m.), "Terra Nova" (Fox, 9 p.m.) and "The Firm" (NBC, 8 p.m.).
Spencer Tracy is the star of the night on Turner Classic Movies, with "Thirty Seconds Over Tokyo" (8 p.m.), "Adam's Rib" (10:30 p.m.), "The Last Hurrah" (12:15 a.m.), "Rather's Little Dividend" (2:30 a.m.) and "Cass Timberlane" (4 a.m.).
In college basketball, it's Connecticut at Notre Dame (ESPN2, 11 a.m.), Kentucky at Tennessee (ESPN, noon), Texas at Missouri (ESPN2, 1 p.m.), North Carolina at Florida State (ESPN, 2 p.m.), Oklahoma State at Baylor (ESPN2, 3 p.m.) and UNLV at San Diego State (NBC Sports Network, 4 p.m.).
Marathon runners get set for a U.S. Olympic Team Trials (NBC, 3 p.m.).
In hockey, it's Blackhawks at Red Wings (NBC, 12:30 p.m.).
Daniel Radcliffe, "Harry Potter" himself, hosts a new "Saturday Night Live" (NBC, 11:30 p.m.) with musical guest Lana Del Rey.