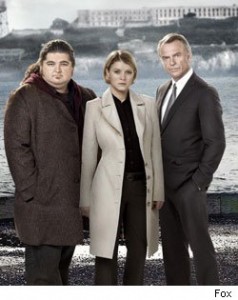 Those missing a certain something on TV these days may be cheered by the debut tonight of "Alcatraz" (Fox, 8 p.m.).
It's not exactly "Lost," but it has J.J. Abrams, Jorge Garcia and an island. More than that, its overall cast, led by Sarah Jones and Sam Neill, is strong and its premise initially is intriguing: that those who were in the prison when it closed in the early 60s disappeared, only to appear in the modern day to menace the world.
It takes a while for this to be determined, and a team to be assembled to address it, and the hunt is fun before you realize: Will the tracking of a time-traveled prisoner be the basis of every week's episode? Enjoy it while you can; the pilot is very good looking.
When you're as popular as she is, at her age, yes there should be a prime time observance. So "Betty White's 90th Birthday: A Tribute to America's Golden Girl" (NBC, 8 p.m.) is the event that drew Ellen DeGeneres, Morgan Freeman, Tina Fey, Ray Romano, Seth Meyers, Tracy Morgan, Carl Reiner as well as her costars on "Mary Tyler Moore" and "Hot in Cleveland."
However much good cheer is generated, it may be undercut by the new "Betty White's Off Their Rockers" (NBC, 9:30 p.m.), a dim prank show in which senior citizens fool young people with their kick-in-the-crotch hidden camera tricks. White is mostly a narrator, but her legacy is not enhanced by this low-grade stuff.
Fans of "One Life to Live," which went off the air Friday, won't be fans of its replacement, "The Revolution" (ABC, 2 p.m.)  a low cost rah-rah self-help show that looks to makeover women in body, style and soul. So much information spills out you may want to wear raingear. Among the advisers are faces you know from always-upbeat TyPennington (despite losing his own show) and Tim Gunn of "Project Runway" fame But if it's improvement viewers are seeking, turning off daytime TV may be the first step.
In Martin Luther King Day programming, about the closest it gets is the special "Oprah and the cast of 'Roots' 35 Years Later" (OWN, 8 p.m.) recalls the popular miniseries. Or maybe "Ray" (BET, 8 p.m.). But "The King's Speech" (Showtime, 7 p.m.) has nothing to do with it.
There is a showcase of black filmmakers on Turner Classic Movies, with "My Brother's Wedding" (8 p.m.), "The Learning Tree" (9:30 p.m.), "Black Girl" (11:30 p.m.), "Stir Crazy" (1:30 a.m.) and "Watermelon Man" (3:30 a.m.).
It's the 16th or so Republican Presidential Debate (Fox News, 9 p.m.), from Myrtle Beach, S.C., now with just five candidates.
Still, there has been a lot of time for GOP talking points in recent months, with no response. So Michelle Obama takes matters into her own hand, guest starring on a new episode of "iCarly" (Nickelodeon, 8 p.m.).
"Being Human" (Syfy, 9 p.m.), the series about a ghost, a werewolf and a vampire who room together, returns for season two. A new season also starts for the hot food search "Heat Seekers" (Food, 8 p.m.).
Theory: "The Bachelor" (ABC, 8 p.m.) has become more entertaining as we all agree that it will never result in actual romance. Instead, producers concentrate on heroes and villains and playing up (or over playing) whatever small incidents crop up.
Seems like there was far more fodder at the Golden Globes this year for the likes of "The Fashion Police" (E!, 9 p.m.) and "The 2012 Golden Globes Fashion Wrap" (TV Guide, 8 p.m.).
NBA action includes Bulls at Grizzlies (ESPN, 1 p.m.), Thunder at Celtics (TNT, 8 p.m.) and Mavericks at Lakers (TNT, 10:30 p.m.). In the NHL, it's Stars at Blues (NBC Sports, 7:30 p.m.).
College hoops includes Texas A&M at Missouri (ESPN, 5:30 p.m.), Pittsburgh at Syracuse (ESPN, 7:30 p.m.) and Baylor at Kansas (ESPN, 9:30 p.m.). And in women's basketball, North Carolina at Connecticut (ESPN2, 7 p.m.).
Daytime Talk
Kelly Ripa: Simon Baker, Kevin Hart, Seth Meyers. The View: Piers Morgan, Tim Gunn. The Talk: Jennifer Hudson, Dr. Laura Berman. Ellen DeGeneres: Sofia Vergara, Big Time Rush. Wendy Williams: Suze Orman, Kevin Hart, Marc Bouwer. Rosie O'Donnell: Miranda Cosgrove.
Late Talk
David Letterman: Simon Baker, Elizabeth Banks, Seal. Jay Leno: Melissa McCarthy, Gov. Rick Perry, T-Pain. Jimmy Kimmel: Don Cheadle, David Cross, Boyz II Men (rerun). Jimmy Fallon: Liam Neeson, Piers Morgan, Chiddy Bang. Craig Ferguson: Lucy Liu, Kevin Sorbo. Tavis Smiley: Remaking America, Part 1. Carson Daly: Lisa Ling, Anamana Guchi, Goldheart Assembly (rerun). Jon Stewart: Jodi Kantor. Stephen Colbert: Rev. Scott Douglas. Conan O'Brien: Kate Beckinsale, Stephen Merchant, St. Vincent. Chelsea Handler: Giovanni Ribisi, Ali Wong, Chris Franjola, Kerri Kenney-Silver.