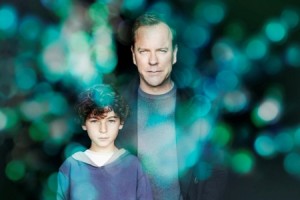 I hadn't realized how much I missed Kiefer Sutherland from network TV until the clock ran out on "24."
He's back tonight in something that looks very good. "Touch" (Fox, 9 p.m.) is the latest series from "Heroes" creator Tim Kring about a father trying to break through to his emotionally challenged son, who seems to be clued into a certain code of the universe, judging from his obsession with a certain string of numbers. Yes, in that it's like "Lost" as well, but the pilot episode at least strings together a number of incidents, travels around the world and (again like "24") connects ultimately with 9/11 as well. Whether it will pan out on a weekly basis is yet to be determined; for now tonight's episode is only slated as a "preview event" which means the series doesn't actually start until March 19.
Marg Helgenberger takes her final bow on "CSI: Crime Scene Investigation" (CBS, 10 p.m.) after 12 years playing tough (but glamorous) investigator Catherine Willows, whose charactr is being asked to join a federal task force (actress relocation).
There's a milestone for another longrunning crime drama tonight – "Criminal Minds" (CBS, 9 p.m.) reaches its 150th episode.
Auditions for "American Idol" (Fox, 8 p.m.) move to another city it's never been to before, Aspen. The altitude presumably brings out more sopranos than normal.
"In Tahir Square: 18 Days of Egypt's Unfinished Revolution" (HBO2, 8 p.m.) looks back at the heroism of the Egypt spring, with footage shot on site. Directed by Jon Alpert and Matthew O'Neill.
On a new "Nova" (PBS, 9 p.m., check local listings) art experts try to determine whether a portrait sold in 2008 for $20,000 was actually a lost work by Leonardo di Vinci worth much more.
It follows a new "Nature" (PBS, 8 p.m., check local listings) in which brown bears in Alaska are tracked for a year.
"Combat Cash" (Discovery, 10 p.m.) is not about the military budget. It's about those who amass military collectibles.
The 22nd season of "The Challenge" (MTV, 10 p.m.), TV's most pointless competition, begins.
Joe Jonas and Jennifer Love Hewitt guest star on a new "Hot in Cleveland" (TVLand, 10 p.m.).
Kathy Griffin plays a boss on a new "Whitney" (NBC, 8 p.m.).
A 2006 interview with the actress, "Private Screenings: Angela Lansbury" (TCM, 8 p.m.), precedes the final Wednesday night salute to her movies, from the 1982 "Sweeney Todd: The Demon Barber of Fleet Street" (TCM, 9 p.m.) to "Death on the Nile" (TCM, 11:30 p.m.), "Mister Buddwing" (TCM, 2 a.m.), "Dear Heart" (TCM, 2:45 a.m.) and "In the Cool of the Day" (TCM, 5:45 a.m.).
Let us now honor our new Oscar nominee, Jonah Hill, in a previous film, "Get Him to the Greek" (More Max, 9 p.m.).
NBA games include Clippers at Lakers (NBA, 10:30 p.m.)
In college hoops, it's Duke at Maryland (ESPN, 9 p.m.)
In the NHL, it's Red Wings at Canadiens (NBC Sports, 7:30 p.m.).
Daytime Talk
Kelly Ripa: Alan Cumming, Emmy Rossum, Ingrid Michaelson, Kristin Chenoweth. The View: Gless Close, S. Epatha Merkerson, Chris Cuomo. The Talk: Michael Clarke Duncan, Chalene Johnson, Rob Schneider. Ellen DeGeneres: Mario Lopez, Ben Flajnik. Wendy Williams: Lester Holt, Aaron Sanchez & Roger Mooking. Rosie O'Donnell: Kathy Griffin.
Late Talk
David Letterman: Scarlet Johansson, Julie Chen, Robert Griffin III (rerun). Jay Leno: Robin Williams, Drew Hastings, Vince Gill (rerun). Jimmy Kimmel: Cuba Gooding Jr., Sara Hyland, Big Freedia. Jimmy Fallon: Rosie O'Donnell, Donnie Wahlberg, Robin Thicke (rerun). Craig Ferguson: Jean-Michel Cousteau, Craig visits the Louvre (rerun). Tavis Smiley: Kathleen Turner. Carson Daly: Paula Broadwell. Jon Stewart: Paula Broadwell. Stephen Colbert: Terry Gross. Conan O'Brien: Elizabeth Banks, Timothy Olyphant, John Mulaney. Chelsea Handler: Lisa VanderPump, Jo Koy, Sarah Colonna, Bill Bellamy, Ross Mathews.