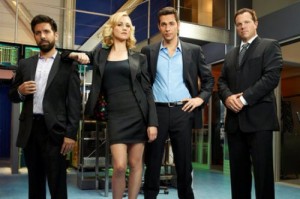 It's a miracle "Chuck" (NBC, 8 and 9 p.m.) lasted long as it did. Though I know it had its partisans, it only had enough fans to barely hang on for five seasons. They kept making season finales that would serve as series finales because it was never clear they were coming back.
The end tonight is definite, so they endeavor to end the story in the two one-hour episodes. By now, love interest Sarah has had her memory erased and is back to where the series begins, taking orders from a shadowy agency and keeping an eye on Chuck, the electronics salesman and self-pronounced geek who suddenly had a lot of government secrets downloaded in his brain (the more they repeat the story in the finale the more absurd it all seems again).
What began as a funny caper morphed into an action series hijacked by romance, with the comedy suddenly as scarce as credible storylines. Those who stuck with it this long, though, will probably appreciate the way it ends.
Five years after his first "Duets" album, which he recorded when he was 80, the long-lasting singer is back again, at 85, with "Tony Bennett: Duets II" an album whose stylish recordings was caught for an edition of "Great Performances" (PBS, 9 p.m., check local listings). Part testimonial, part concert,, it's great to see him sing and fool around with Michael Buble, Willie Nelson and Lady Gaga. It also represents the final recording of Amy Winehouse.
Mixing the approach of the hit "Gold Rush" (Discovery, 9 p.m.) with "Deadliest Catch," the focus turns to offshore Alaska to find "Bering Sea Gold" (Discovery, 9 p.m.) featuring four colorful crews going after what seems to be plentiful gold along the sea-bottom. Some problems ensue.
Blood flows like wine once more on the ultraviolent "Spartucus: Vengence" (Starz, 10 p.m.), which moves the story ahead, using a new lead in Liam McIntyre, taking the role of the late Andy Whitfield. But I can never get past the exaggerated, video-game style violence.
Mark Foley, Martin Bashir, Kennedy , Rep. Dana Rohrabacher and Mario batali are scheduled guests on a new "Real Time with Bill Maher" (HBO, 10 p.m.).
It's preceded by a new episode of the documentary on the famed boxing rainer, "On Freddie Roach" (HBO, 9:30 p.m.).
Is there a chance for a cat portrait biz? Ironically, it's up to the fish on "Shark Tank" (ABC, 8 p.m.).
Fans voted on who to include in "The John Mulaney Stand-Up Playlist" (Comedy Central, 9 p.m.).
All clear: There's no Republican Debate scheduled tonight. Those who miss it, though can always watch "WWE Smackdown" (Syfy, 8 p.m.).
The work of director James Whale is featured on Turner Classic Movies tonight with "The Great Garrick" (8 p.m.), "One More River" (9:45 p.m.), "The Invisible Man" (11:15 p.m.) and "Frankenstein" (12:30 a.m.).
In NBA action, it's Knicks at Heat (ESPN, 8 p.m.).
In college hockey, it's Yale at Harvard (CBS Sports, 7:30 p.m.).
Daytime Talk
Kelly Ripa: Chelsea Handler, Andrea Arden, Carrie Ann Inaba. The View: Matilda Raffa Cuomo, Gloria Steinem, Mike Nichols, Bill Geddie, Phillip & Holly Wagner. The Talk: Eva La Rue, Louis Van Amstel, Tori Spelling. Ellen DeGeneres: Ted Danson, Kellie Pickler, Christopher Plummer. Wendy Williams: Sherri Shepherd, Andy Dick. Rosie O'Donnell: Dr. Mehmet Oz.
Late Talk
David Letterman: Dolly Parton, Alan Zweibel (rerun). Jay Leno: President Barack Obama, Yo-Yo Ma & Friends (rerun). Jimmy Kimmel: Meryl Streep, Stephen Merchant, Kina Grannis (rerun). Jimmy Fallon: Daniel Radcliffe, Elisabeth Hasselbeck, Common (rerun). Tavis Smiley: Seal. Carson Daly: Lupe Fiasco, Alma Har'el, Atmosphere (rerun). Chelsea Handler: Giovanni Ribisi, Ali Wong, Chris Franjola, Kerri Kenney-Silver (rerun).