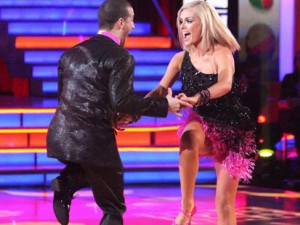 It's always a big moment each season on "Dancing with the Stars" the first time a celebrity gets a perfect 10 score from a judge. it usually happens in the final three weeks. Not in the first three.
But that's what happened Monday when a waltz by opera singer Katherine Jenkins to Josh Grobn's "To Where You Are" was just one point shy of perfection with two 10s and a 9. This after a couple of performance shows where her 29 out of 30 was preceded by a pair of 26s — high scores for those weeks as well. In fact she's had the high score for dancing all season and has an average that is four full points above the next closest competitor, Telenovela star William Levy, who himself got a single early 10 Monday as well.
But while both of them provide dancing, how much are they really stars?
Levy has a partisan group screaming his name in Hollywood, but is he really widely known in the English speaking America? And Jenkins, as lovely as she is, wasn't really a standout name outside of the British Empire. And yes, she may have sold 4 million albums and her Wikipedia entry is impressive, but she also seems a little too perfectly manufactured by the show's producer — BBC Productions after all — to become a Cinderella mirror ball winner with partner Mark Ballas. At any rate, her early runaway success certainly saps any suspense the season might have had in terms of competition.
It could be all due to the judges' grade inflation; William had a 10 as well and two 9s Monday for his salasa. Behind him, Maria Menounos got straight 9s for her rhumba; NFL star Donald Driver got two 9s and an 8 and "Disney star" Roshon Fegan got two 8s and a 9.
Everybody else on the show got straight 8s and they all tied for the night's lowest score: Jack Wagner, Gladys Knight, Gavin DeGraw, Sherri Shepherd, Melissa Gilbert. It will be up to viewers to kick one of them out Tuesday.