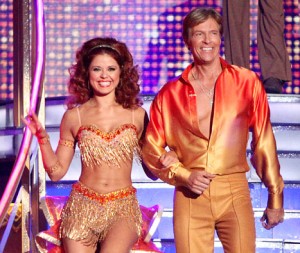 On a night when another round of primaries failed to knock out any candidates, a bunch of people on reality shows were more easily eliminated.
Perhaps that is the appeal of talent competition shows: The guarantee that the field will be narrowed one way or another.
Things couldn't have been more complicated than on the first elimination night on "The Voice."
There were 24 acts in it, divided into six for each of the four mentors/judges. This week two of the judges' teams competed; out of the total dozen competing, three were saved by highest number of viewer votes; the other three had to "sing for their lives" for the judges who decided which of the three they'd keep.
So on Blake Shelton's team, he saved Jordis Unga and let Naia Kete and Charlotte Sometimes go (despite the cool name of the latter), while viewers saved Jermaine Paul, RaeLynn and Ashley De La Rosa.
On Christina Aguilera's team Moses Stone and Sera Hill went home; Aguilera saved Ashley De La Rosa. Saved by viewers were Chris Mann, Lindsey Pavao and Jesse Campbell.
In a week that saw a five-way tie for bottom, and bottom was only five points from the high score, it was up to viewers to choose the one eliminated. And though three others had lower combined scores from three weeks of dancing, soap star and onetime pop singer Jack Wagner got the nod to leave "Dancing with the Stars" on Tuesday.
His samba had been his best dance yet, judges said. But maybe his accompanying story, dedicated to his daughter, wasn't as emotional as other dancers' sob stories Monday. Or he could have fallen prey to being first to dance on a two hour show. By the end, people just didn't remember his name enough to call and register a vote.
Next week is rock week on the show, with on-stage mentors Kiss.