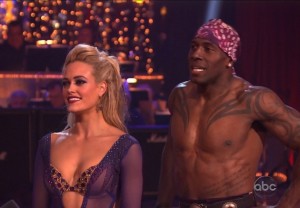 Rock week on "Dancing with the Stars" was not just an opportunity for participants to stick their tongues out in the manner of the guest band Kiss, nor just a fashion parade of S&M black leather clothing that some show costumer mistakenly thought synonymous with rock.
It was also time for leaders to falter for once and new people at the top and bottom of the judges' scoreboard.
After dominating scores each week, leading to a near-perfect 29 last Monday, opera singer Katherine Jenkins fell to 24, only good enough for third. On top for the first time was NFL star Donald Driver, right, doing a big number to Jimi Hendrix, with the night's high score of triple 9s — a 27.
Roshon Fegan and Maria Menounos tied for second place with 26. Gavin DeGraw, himself a rock singer, avoided the bottom of the pack with a 23 for his tango to the Stones' "Paint it Black," giving him a fourth place finish that put him ahead of Melissa Gilbert (who failed to show at the end of the program, having been rushed to the hospital for some unseen injury), William Levy and Jaleel White. Alone at the bottom was the only participant who is an actual member of the Rock and Roll of Fame, Gladys Knight, trying to navigate the shifting tempos of "Bohemian Rhapsody."
The show announced a big change in the procedure of elimination, saying that the bottom two will now dance again during the results show, with the judges deciding who will go home. This will prevent good people from being voted out, supposedly. As if last week's ouster of Jack Wagner was premature. There was a five-way tie for last place among judges scores last week and nobody will miss Wagner.