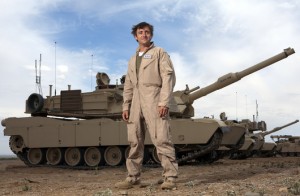 Following a two hour version of "Top Gear" (BBC America, 9 p.m.), in which the team travels to the former Empire holding, India, the show's Richard Hammond, goes off to do his own spin-off in America.
"Richard Hammond's Crash Course" (BBC America, 10 p.m.), the driving enthusiast aims to master some of the biggest and most dangerous vehicles in the states. The list includes fire engines and construction equipment. But he starts off with the Army's MIA2 Abrams Tank at Fort Bliss, Texas. He's got to figure out how to be driver, commander, gunner and loader of the 68.7 ton machine before he can finish the challenge.
The competitions continue for hours on end on the networks. The telenovela guy looks to have things wrapped up for the Latin Week moves on "Dancing with the Stars" (ABC, 8 p.m.). Another two teams present their singers so viewers can vote on who will survive on "The Voice" (NBC, 8 p.m.).
Uma Thurman has been signed to be the big star in the Marilyn Monroe musical on "Smash" (NBC, 10 p.m.), now called "Bombshell." The problem is that she's stuck in Cuba.
The fifth and final season of "Eureka" (Syfy, 9 p.m.) begins, followed by the second season start of "Lost Girl" (Syfy, 10 p.m.), picking up immediately after the last.
The first of the "Toddlers & Tiaras" girls to break out into her own series is Eden Wood, whose journey to be a big star at 7 is chronicled on the new "Eden's World" (Logo, 10 p.m.).
It's enough to make you bleed from the eyes, which in fact is the disease of the week on "House" (Fox, 9 p.m.).
Pretty soon everybody will have been paired up on "Gossip Girl" (The CW, 8 p.m.). Currently, it's Blair and Dan, formerly known as oil and water.
Adam Baldwin joins his former "Firefly" costar Nathan Fillion on tonight's episode of "Castle" (ABC, 10 p.m.).
"Anthony Bourdain: No Reservations" (Travel, 9 p.m.) is not the first to try and fine the best BBQ in Kansas City.
Anthony Melchiorri tries to improve a fading hotel in Miami's South Beach on a new "Hotel Impossible" (Travel, 10 p.m.).
It's Spring Break on Turner Classic Movies, with classics largely from the 1960s including "Where The Boys Are" (8 p.m.), "Palm Springs Weekend" (10 p.m.) and three from Elvis, "Girl Happy" (midnight), "Blue Hawaii" (2 a.m.) and "Clambake" (4 p.m.), which may include his worst song (the title number).
Daytime Talk
Kelly Ripa: Ice-T, Paul Wesley, D.L. Hughley. The View: Meredith Vieira, Aziz Ansari. The Talk: Tori Spelling, Kristoffer Polaha. Ellen DeGeneres: Michelle Obama, Katharine McPhee, Neon Trees.
Late Talk
David Letterman: Jon Hamm, Ted Alexandro, White Rabbits (rerun). Jay Leno: Drew Barrymore, Blake Shelton. Jimmy Kimmel: Zac Efron, Krysten Ritter, Noel Gallagher. Jimmy Fallon: Julianna Marguiles, Seann William Scott, Bruce Springsteen (rerun). Craig Ferguson: Kathy Griffin. Carson Daly: Deadmau5, Jamestown Revival, Walk the Moon (rerun). Tavis Smiley: Phil Donahue, Dr. Cornel West. Jon Stewart: Jane Goodall. Stephen Colbert: Bonnie Raitt. Conan O'Brien: Kevin Hart, Brittany Snow, First Aid Kit. Chelsea Handler: Shannen Doherty, Ali Wong, Sarah Colonna, Ross Mathews.