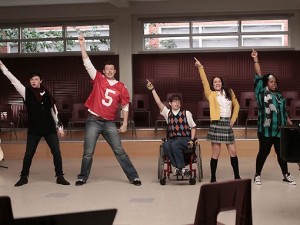 The poor guy is in a coma, all it could take is one small thing to send him beyond this life. Like "Glee" (Fox, 8 p.m.) doing a salute to their "Saturday Night Fever" songs. They'll perform it tonight. We'll see its effect.
"Dancing with the Stars" (ABC, 9 p.m.) is losing faith in leaving its eliminations up to the audience, though the show has been based on that since the beginning. Not that there has been some shocking elimination, just ones that didn't seem particularly necessary (though nobody expected Jack Wagner or Sherri Shepherd to win). Tonight the judges take it back into their own hands by allowing themselves to choose from between the two low vote-getters, who will have to do a "Dance Duel" — dancing to the same song at the same time. It's a weird way to end Latin week. Performers on the show include Train and Selena Gomez.
Two shows you're not watching each have a season finale tonight — so early! One is the first season finale to "Ringer" (The CW, 9 p.m.) the Sarah Michelle Gellar twin vehicle that couldn't even live up to its own camp after the first week. There's some sort of wedding tonight, though.
It's the finale too for "Raising Hope" (Fox, 9:30 p.m.) and normally comedy season finales are no big deal, but on this one the family has to go to court to maintain the right to raise Hope (It's right in the title, your honor). To do so creator Greg Garcia pays tribute to his previous sitcom, "My Name is Earl" by finding guest star spots for Jason Lee, Jaime Pressly and Ethan Suplee.
They're importing soaps on The CW now, too. The new one "The L.A Compex" (The CW, 9 p.m.) is from Canada.(Is their L.A. Apartment Complex Melrose Place?).
"Frontline" (PBS, 9 p.m.) looks into real life forensic science and courtroom presentation.
Elimination night on "The Voice" (NBC, 9 p.m.) a success in my book if only because it holds "The Biggest Loser" (NBC, 8 p.m.) to one hour.
Blue crab — it's as rare as Johnny Walker Blue. But a whole lot more dangerous to find. They attempt to do so on "Deadliest Catch" (Discovery, 9 p.m.). To emphasize the deadly they're following it with the compilation special "Deadliest Catch: Best Brawls" (Discovery, 10 p.m.).
"Fashion Star" (NBC, 10 p.m.) has been bragging that their designs have been selling out each week on the show. And the show has been selling out from the pilot.
Thailand is the next stop on "No Kitchen" (BBC America, 10 p.m.).
The case of a levitating woman in Atlanta is investigated on "Fact or Faked: Paranormal Files" (Syfy, 9 p.m.).
Joe Maddon and Pau Gasol are profiled on a new "Real Sports with Bryant Gumbel" (HBO, 10 p.m.).
The main problem on "Amish Out of Order" (National Geographic Channel, 10 p.m.) is where to get them fixed.
Spring break continues on Turner Classic Movies with "Gidget" (8 p.m.), "Gidget Goes Hawaiian" (9:45 p.m.), "Ride the Wild Surf" (11:30 p.m.), "For Those Who Think Young" (1:15 a.m.), "It's a Bikini World" (3 a.m.) and "Hot Rods to Hell" (4:30 a.m.).
Meryl Streep stars in both "Sophie's Choice" (Flix, 8 p.m.) and "The River Wild" (TV Guide, 8 p.m.).
Late Talk
David Letterman: Michelle Obama, Gail Collins, the Shins (rerun). Jay Leno: Christina Aguilera, Kevin Smith, Melanie Fiona and J. Cole (rerun). Jimmy Kimmel: Mark Harmon, Ashanti. Jimmy Fallon: Shaquille O'Neal, Lily Collins, Andrew Bird (rerun). Craig Ferguson: Kevin Kline, Alice Eve. Carson Daly: Dan Lindsay, T.J. Martin, Lucy Walker, Fool's Gold (rerun). Tavis Smiley: Phil Donahue, Dr. Cornel West. Jon Stewart: Julia Louis-Dreyfus. Stephen Colbert: Jonah Lehrer. Conan O'Brien: Patton Oswalt, Gabrielle Union, Bo Burnham. Chelsea Handler: Kelly Lynch, Mo Mandel, Liz Carey, Jo Koy.