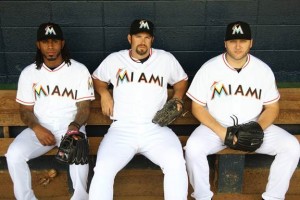 It seemed at first a random choice to have the newly named Miami Marlins be the focus of the new insider reality series "The Franchise: A Season with the Miami Marlins" (Showtime, 9 p.m.).
But they've already proven to be worth a watch, with a new stadium opening and the Commissioner suspending manager Ozzie Guillen the first week of the season for an opinion offered to a magazine. And that's just the drama apart from the sport. Tonight's episode is a "sneak preview"; the weekly series begins July 11.
Terrence Malick's "The Tree of Life" (Cinemax, 10 p.m.) makes its TV debut tonight. The film, which got Oscar nominations for best picture and best director, concerns itself with the big issues of life., as a middle aged man looks back on his childhood in Texas in the 1950s. The Palme d'Or winner at Cannes stars Sean Penn, Brad Pitt and Jessica Chastain.
Also new on premium cable tonight is "Water for Elephants" (HBO, 8 p.m.) the adaptation of the Sara Gruen novel starring Robert Pattinson and Reese Witherspoon. And Zoe Saldana plays a professional killer in "Colombiana" (Starz, 9 p.m.).
What was Pete Campbell doing in driving school on last week's "Mad Men"? Well, he lived in New York where people can live without driving. But when they do, some of them need school, such as the one run by Sven Ruppaner in Astoria, Queens that is the basis of the new series "Last Chance Driving School" (A&E, 10 p.m.). Students in the first pair of shows include a Brazilian woman with road rage, a male stripper and a bartender.
In back to back stand up specials tonight, it's "Patton Oswalt: Finest Hour" (Comedy Central, 10 p.m.) and "Paul F. Tompkins: Laboring Under Delusions" (Comedy Central, 11 p.m.).
A two hour edition of "20/20" (ABC, 9 p.m.) focuses on Hollywood stories.
"America's Most Wanted" (Fox, 8 p.m.) has its own two-hour special, about fugitives worldwide.
The infomercial posing as a reality competition, "Escape Routes" (NBC, 8 p.m.) reaches Miami.
The company is enlisted to make a beer keg aquarium on a new "Tanked: Unfiltered" (Animal Planet, 10 p.m.).
A replay of "Close Encounters of the Third Kind" (TCM, 8 p.m.) kicks off a night of 1970s sci-fi, including "Rollerball" (TCM, 10:30 p.m.), "Logan's Run" (TCM, 12:45 a.m.), "Westworld" (TCM, 3 a.m.) and "Soylent Green" (TCM, 4:30 a.m.).
Hankering a sci-fi movie from the 2010s? Try the new "Alien Tornado" (Syfy, 9 p.m.) about aliens who attack Earth with electrical tornados. A blogger is among the unlikely trio who must stop them.
The other original TV movie tonight, "The Wife He Met Online" (Lifetime, 8 p.m. and midnight) is the usual cautionary tale involving computer romances dangers. It stars Sydney Penny, Cameron Mathison and Cynthia Preston.
Not to be outdone by the one year anniversary of the royal wedding, "My Little Pony Friendship is Magic" (Hub, 1 p.m.) has its own ceremony of ponies Princess Candace and Shining Armor.
Don't mix up "The Boondock Saints" (IFC, 10:30 p.m.) with "Boondocks" (Cartoon Network, 11 p.m.).
The salute to Dick Clark continues with a daylong marathon of his "25,000 Pyramid" (GSN, noon).
Stanley Cup playoff games include Capitals at Bruins (NBC, 3 p.m.), Senators at Rangers (NBC Sports, 7 p.m.), Sharks at Blues (CNBC, 7:30 p.m.) and Blackhawks at Coyotes (NBC Sports, 10 p.m.).
NBA action includes Nuggets at Suns (ESPN, 5:30 p.m.), Mavericks at Bulls (ESPN, 8 p.m.) and Magic at Jazz (ESPN, 10:30 p.m.).
A toddler gets a toy stuck on his finger on a new "Bizarre E.R." (Discovery Fit & Health, 10 p.m.).
Alejandro Escovedo and Trombone Shorty perform on a replay of "Austin City Limits" (PBS, 9 p.m., check local listings).
"Saturday Night Live" (NBC, 11:30 p.m.) is also a repeat, with Daniel Radcliffe hosting and Lana Del Rey giving a controversial performance.