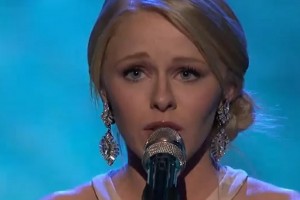 The one finalist who received the most criticism in Monday's show got the boot, though Hollie Cavanagh by all accounts would make a strong "American Idol" – a cute blonde teen with a powerful voice, the criticism was that she was singing too big when it came to singing Bonnie Raitt's "I Can't Make You Love Me." How could she sing this if she didn't have any experience? the judges asked.
Who said she didn't? (She at least had these judges, criticizing her off the top of their heads, whom she couldn't make love her).
I'm thinking it was that weird accent, from Liverpool by way of McKinney, Texas, that made her seem more foreign and a little less of an American idol. But she kept being shaken by lack of confidence mostly by judges who threw random criticism to her, when actually she was doing fine.
She got another chance when she faltered in her season ten attempt; they probably won't let her come back for season 12.
Her ouster, expected after last night's superlative-fest for the other singers, leaves Phillip Phillips (with her in the bottom two, surprisingly) along with Joshua Ledet and Jessica Sanchez whose big voiced soul singing may earn them the final spots.
The three get hometown visits next week, which have been now hyped into Hometown Hero events – if they don't get 20,000 people to greet them when they go home, something will be wrong.
The finals come in two weeks.