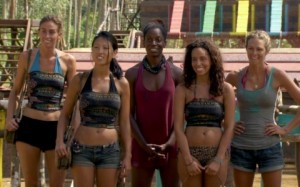 It's always a little jolting when the finale of "Survivor" (CBS, 8 p.m.) moves from midweek to Sundays all of a sudden, for the big three hour finale. This one is the first in 24 seasons with an all female finale – made more surprising since this was the season when it was men vs. women. After winning many of the initial competitions, the women annihilated the men, who now sit on the jury to decide which of the final three will earn $1 million.
In many ways, what's transpired is due to the orchestration of Kim, but can her winning be so preordained. Five remain as the finale starts tonight.
The second in the series of "Sherlock" on "Masterpiece Mystery" (PBS, 9 p.m., check local listings) is an update of "The Hounds of Baskerville." In the updated version, it concerns secret government labs doing genetic engineering to make giant animals for military use.
The first season of "Once Upon a Time" (ABC, 8 p.m.) holds a finale.
Edna and Ned wed on a new episode of "The Simpsons" (Fox, 8 p.m.).
It's down to the final three on "Celebrity Apprentice" (NBC, 9 p.m.) with Clay Aiken, Arsenio Hall and Aubrey O'Day. But tonight is only the first part of the season finale.
Time to look for the "Next Food Network Star" (Food, 9 p.m.) now in its eighth season.
A new standup special from the "30 Rock" star, "Tracy Morgan: Black and Blue" (Comedy Central, 10 p.m.).
Who stole the dragons on "Game of Thrones" (HBO, 9 p.m.)?
This is all they've said about the new episode of "Mad Men" (AMC, 10 p.m.): "Don becomes competitive and Roger seeks new business as Sally faces a challenge." So there you go. The promos make it look as if Betty Draper will make her second appearance of the season.
The "Veep" (HBO, 10 p.m.) has a taste of romance and visits a hospital.
They've moved "The Pitch" (AMC, 11 p.m.) to come on immediately after "Mad Men" while you're still in mind of advertising men.
Wanda Sykes and John Legend get a genealogy session on "Finding Your Roots with Henry L. Gates Jr." (PBS, 8 p.m., check local listings).
The Indian casino is not favorably depicted on "The Killing" (AMC, 9 p.m.).
Hannah does the wrong thing in trying to stop her grabby boss on "Girls" (HBO, 10:30 p.m.).
It may be Mother's Day weekend for most of us, but it's Christmas on the season premiere of "Sister Wives" (TLC, 9 p.m.).
In the Stanley Cup Playoffs it's Kings at Coyotes (NBC Sports, 8 p.m.). In the NBA playoffs, it's Pacers at Heat (ABC, 3:30 p.m.). Baseball games include Angels at Rangers (ESPN, 8 p.m.).
Sunday Talk
ABC: Reps. Barney Frankand Marsha Blackburn, Hilary Rosen, Maggie Haberman. CBS: Theodore Olson, Gov. Deval Patrick, Ralph Reed, Clay Aiken, Rep. Mike Rogers, Anita Dunn, Bay Buchanan. NBC: Reince Priebus, Jamie Dimon, Sen. Carl Levin. CNN: Tony Perkins, Gary Bauer. Fox News: Sens. John Thune and Dianne Feinstein.