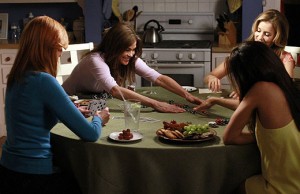 "Desperate  Housewives" (ABC, 10 p.m.) creator Marc Cherry knew how his series would end almost since it began.
"The last act which I've had in my head for seven and a half years is absolutely what we're going to do," he told TV critics last winter. "What was cool was the day that I shared it with the writers, because I had been kind of keeping it to myself. And, of course, as always happens with my wonderful writers, I said, well, 'This is what I want to do' and then they started adding things.
"So it definitely got better once I said, 'Well, this is what I was going to do.' But the general premise has always been the same."
There's still some stuff in the body of the thing that we're still working out and seeing how things are we're tying up our loose ends and stuff. But the last act, absolutely, I've had it down for quite awhile now.
It involves all kinds of things, like a murder trail, a confession, a concealment of a house sale, the return of Katherine Mayfair, the reconciliation of Lynette to Tom that's not quite accomplished, a story involving Vanessa William's Renee, and the death of Katheryn Joosten again on TV, as Mrs. McCluskey. Previously, she died on "The West Wing" as Mrs. Landingham.