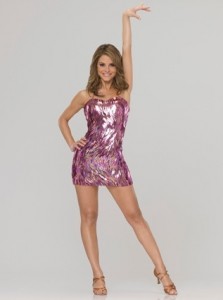 Maria Menounos entered the semifinals results show of "Dancing with the Stars" Tuesday with the highest score of the week including her second perfect 30.
But the "Extra" host didn't earn quite as many votes from viewers, which meant she was cut just before next week's finals.
The show's mirror ball trophy will go to either NFL star Donald Driver, telenovela heartthrob William Levy or British opera singer Katherine Jenkins next week.
Scores for all four finalists this week were within three points of one another – Menounos' combined score of 59 was immediately followed by Levy's 58, Driver's 57 and 56 from Jenkins, who has had the highest scores all season, but who stumbled with a back injury for her second dance Monday.
Average scores for the season have put Levy second, and Driver fourth; Menounos' average score had been third for the season, having posted the first perfect 30 score of the season.
Her ouster Monday may have put into question whether audiences approve when they are a little too physical with their dance partners, as she has for Derek Hough.
They kissed during a performance in April.
Memounos has also suffered for her act; she broke two ribs while rehearsing for the show in March but kept going.