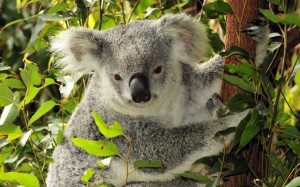 They may make cute stuffed animals, but koalas are mean little things who bark and fight about mating and are now invading the suburbs of Brisbane.
With all the males going after the females, it can get awfully noisy. The researchers who are "Cracking the Koala Code" as the title of this special on "Nature" (PBS, 8 p.m., check local listings) puts it, track movements and find something else  spreading in the koala community: chlamydia.
Especially big mayhem, usually involving explosions and harm to "one of their own" figures into way too many crime show finales this season and it happens again in the two hour seventh season finale of "Criminal Minds" (CBS, 9 p.m.) involving a hostage situation at a federal bank.
Mother's Day is celebrated on the first season finale of "Suburgatory" (ABC, 8:30 p.m.) which was just renewed for a second season this week.
Also renewed this week: "Betty White's Off Their Rockers" (NBC, 8 p.m.), "The Middle" (ABC, 8 p.m.) and "Don't Trust the B.. in Apt. 23" (ABC, 9:30 p.m.). After the cancellation of "GCB" it's the last "B" show left on the network.
"Revenge" (ABC, 10 p.m.), which presents its big first season cliffhanger tonight, also returns in the fall, but on Sundays.
The final three on "American Idol" (Fox, 8 p.m.) all get to go home and be feted locally — Phillip Phillips to Leesburg, Ga.; Joshua Ledet to Westlake, La., and Jessica Sanchez to San Diego. They'll also have to sing three songs: one chosen by Jimmy Iovine, one by the judges, and one of their own choice.
The reason there are so many comedies being introduced this week for the fall network schedules is the singular success of "Modern Family" (ABC, 9 p.m.). Because it is such a one of a kind, none of the newcomers seem to come close.
The go-sees in Hong Kong on "America's Next Top Model" (The CW, 9 p.m.) would be mostly vertical, I would assume. The next stop on "Around the World in 80 Plates" (Bravo, 10 p.m.) is Paris.
It's not easy doing those late night stakeouts year after year. So tonight, founding co-member Grant Wilson takes his final investigation on "Ghost Hunters" (Syfy, 9 p.m.).
His ghost appeared on the finale of "Desperate Housewives" Sunday; now James Denton appears in the flesh as guest star on "Hot in Cleveland" (TV Land, 10 p.m.).
More than a million viwers tuned into the premiere last week of "Tanisha Gets Married" (Oxygen, 10 p.m.), the first episode of which precedes the new one at 9.
A Marvel double feature in reverse order features "The Fantastic Four: Rise of the Silver Surfer" (Fox Movie Channel, 7:30 p.m.) and "The Fantastic Four" (Fox Movie Channel, 9:30 p.m.).
The monthlong Wednesday night retrospective of Joel McCrea on Turner Classic Movies continues with "Dead End" (8 p.m.), "The Great Man's Lady" (9:45 p.m.), "Rockabye" (11:30 p.m.), "Stars in My Crown" (12:45 a.m.), "These Three" (2:30 a.m.) and "Come and Get It" (4:15 a.m.).
In the Stanley Cup playoffs it's game 2 of Devils at Rangers (NBC Sports, 8 p.m.).
NBA playoff games have Celtics at 76ers (TNT, 7 p.m.) and Lakers at Thunder (TNT, 9:30 p.m.).
Baseball includes Red Sox at Rays (ESPN, 7 p.m.).
Daytime Talk
Kelly Ripa: Billy Bob Thornton, Eli Manning, Chris Harrison. The View: Arsenio Hall, Capt. Chelsey "Sully" Sullenberger. The Talk: Rachael Ray, Gayle King, Justin Silver. Ellen DeGeneres: Steve Carell, Brooklyn Decker, Bobby Brown.
Late Talk
David Letterman: Betty White, Moses Maddow, Best Coast. Jay Leno: Joel McHale, Jarod Miller, Bobby Brown. Jimmy Kimmel: Rita Wilson. Jimmy Fallon: Taylor Kitsch, Tony Hale, Pat Martino. Craig Ferguson: Michael Clarke Duncan, the Imagineers. Tavis Smiley: Michael Emerson. Carson Daly: Judah Friedlander, "The Imposter," Dr. Dog. Jon Stewart: Ambassador Ivo Daalder (rerun). Stephen Colbert: Andy Cohen (rerun). Conan O'Brien: Liam Neeson, Marc Maron, Brody Stevens. Chelsea Handler: Brooklyn Decker, Dan Levy, Fortune Feimster, T.J. Miller.