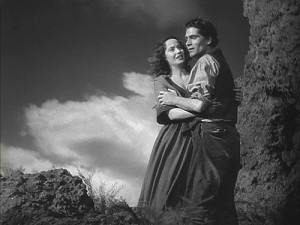 The luxurious black and white cinematography of Gregg Toland is featured tonight on Turner Classic Movies, starting with the movie that won him an Oscar, the 1939 "Wuthering Heights" (TCM, 8 p.m.), pictured right.
It's followed by 1940's "The Long Voyage Home" (TCM, 10 p.m.), Jane Russell in Howard Hughes' 1943 "The Outlaw" (midnight), John Ford's great 1940 "The Grapes of Wrath" (TCM, 2 a.m.) and the film many think was the best ever made, Orson Welles' iconic "Citizen Kane" (TCM, 4:15 a.m.).
Mia Kirshner has played so many dark roles on TV — from recurring assassin on "24" to troubled Jenny Schchter on "The L Word" to a role more recently on "The Vampire Diaries," it's almost amusing to see her in a Hallmark romance. In "Kiss at Pine Lake" (Hallmark, 8 p.m.) she plays another high powered lawyer who is about to help her boss foreclose on a broken down campground until she finds out that it's her old brokendown camp, and her old camp boyfriend is still running it. Guess what happens. Barry Watson is the guy, Bill Engvall is her dad. Whatever the quality of the movie, it sure makes the case for sumer camps as places of magic, and generally gets you ready for the summer.
Just about the only new scripted show on broadcast TV tonight is "The Firm" (NBC, 9 p.m.), the series that's being burned off.
Last year's "X-Men: First Class" (HBO, 8 p.m.) plays premium cable. Also on tonight iare two other films from 2011: "Scream 4" (Showtime, 8 p.m.) and the remake of "Straw Dogs" (Starz, 9 p.m.).
Not to be confused with the new action picture in theaters, the new TV movie "American Battleship" (Syfy, 9 p.m.) is about the USS Iowa vs. hostile alien ships.
Another new TV movie on tonight is "Murder on the 13th Floor" (Lifetime, 8 p.m.) about a wife who gets jealous of a nanny and kills her.
Will Ferrell and John C. Reilly team up for "Step Brothers" (FX, 8 p.m.) and "Talladega Nights: The Ballad of Ricky Bobby" (Comedy Central, 8:30 p.m.).
Interleague play invades your local ballpark and a primetime network game can pick between them. One might be Orioles at Nationals (Fox, 7 p.m.).
It ain't the Derby, but it's in Baltimore: The Preakness Stakes (NBC, 4:30 p.m.).
NBA playoffs include Spurs at Clippers (ABC, 3:30 p.m.) in game 3 and Thunder at Lakers (TNT, 10:30 p.m.) in game 4.
In the Stanley Cup Playoffs, it's Rangers at Devils (NBC, 1 p.m.) in game 3.
The Avett Brothers play a replay of "Austin City Limits" (PBS, 9 p.m., check local listings).
Mick Jagger hosts the 37th season finale of "Saturday Night Live" (NBC, 11:30 p.m.) to show off his comedy skills. But the musical guests are out of control, with Arcade Fire, Foo Fighters and Jeff Beck all on the bill. It's unclear whether they'll all perform in one aggregation or separately.