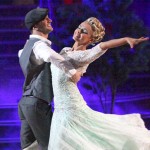 Chances are the person selected to win "Dancing with the Stars" (ABC, 9 p.m.) will be the least well known personality on the show yet. To confirm this slide from celebrity, the next season will be an "All-Star" edition. Oh, does that mean the participants so far have not always been?
In the lead slightly with judges is Katherine Jenkins, who scored a perfect 60 in two dances Monday; just behind her with 59 each, though, are NFL star Donald Driver and telanovela dude William Levy. Judges will add a third score from tonight after tallying home viewer votes.
The finale show brings all the previous dancers back, performances from Kelly Clarkson and Gladys Knight (who also was a contestant this season) and the whole thing is preceded by a rerun of Monday's performance show at 8 p.m.
But that's when the final two performers on "American Idol" (Fox, 8 p.m.) also sing for their last votes – and a day earlier than usual — at the much larger Nokia Theater. It's between Phillip Phillips and Jessica Sanchez.
On the new two part series "Civilization: the West and the Rest with Niall Ferguson" (PBS, 8 p.m., check local listings) the author and historian travels tofind what made Western culture so dominant 500 years ago when China was so far ahead in many innovations. The underlying theme is that the East may be making its comeback in leading the world very soon.
"Glee" (Fox, 9 p.m.) ends its season with a graduation that will take some of the biggest cast members out of McKinley High School. But I couldn't make myself watch last week's nationals. I'm a dropout.
What took so long to get a rap version of Hollywood Squares? Nobody wanted the Paul Lynde role (my suggestion? Childish Gambino). "Hip Hop Squares" (MTV, 11 p.m.) features Ghostface Killa, Biz Markie and Fat Joe, who I hope isn't on the top row. Also on board: Nick Cannon, otherwise known as host of "America's Got Talent" (NBC, 9 p.m.), which is apparently now on every night of the week.
"Dateline's 20th Anniversary Special" (NBC, 10 p.m.) looks back at the work and personalities of the newsmagazine, where there may have been more celebrity interviews than anything else.
"Hollywood Treasure" (Syfy, 10 p.m.) starts a second season, with Sean Astin taking a gander at map from "Lord of the Rings."
A lot of pre Olympic stories are to be told on "Real Sports with Bryant Gumbel" (HBO, 10 p.m.).
They still have to airlift the greenhorn who collapsed last week on "Deadliest Catch" (Discovery, 9 p.m.).
A young dad on "16 and Pregnant" (MTV, 10 p.m.) finds the military the only option for work in the current economy
Debra Winger picks the films tonight on Turner Classic Movies. Her choices: "The Night of the Iguana" (8 p.m.), "Wings of Desire" (10:15 p.m.), "Riffifi" (12:45 a.m.) and "Gilda" (3 a.m.).
Films and their sequels tonight include "Legally Blonde" (ABC Family, 7 p.m.) with "Legaly Blonde 2: Red, White & Blonde" (ABC Family, 9 p.m.), "Dirty Harry" (AMC, 8 p.m.) with "Magnum Force" (AMC, 10:15 p.m.) and "Diary of a Wimpy Kid" (HBO Family, 7 p.m.) with "Diary of a Wimpy Kid: Rodrick Rules" (HBO Family, 8:30 p.m.).
In the NBA playoffs, it's Pacers at Heat (TNT, 8 p.m.) in game 5. In the Stanley Cup playoffs, it's Kings at Coyotes (NBC Sports, 9 p.m.).
Daytime Talk
Kelly Ripa: Jimmy Fallon, Kris Allen, L.A. Reid. The View: Colin Powell. The Talk: Vanessa & Helen Williams, Garry Marshall. Ellen DeGeneres: Katy Perry, Alanis Morissette.
Late Talk
David Letterman: Will Smith, Gossip. Jay Leno: Josh Brolin, Ali Wentworth, Glenn Frey. Jimmy Kimmel: Patricia Heaton, Nikolaj Coster-Waldau, winner of "Dancing with the Stars," Lisa Marie Presley. Jimmy Fallon: Anderson Cooper, John Mayer, the Afghan Whigs. Craig Ferguson: Billy Bob Thornton, Sonya Walger. Tavis Smiley: Billy Bob Thornton. Carson Daly: Juliet Simms, Benh Zeitlin, the Naked and Famous. Conan O'Brien: Tracy Morgan, Bar Refaeli, Trevor, Boris. Chelsea Handler: Dina Eastwood, Gary Valentine, Heather McDonald, Matt Braunger.