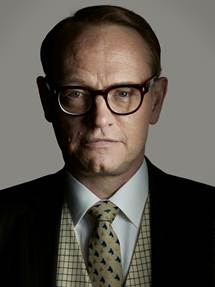 Alas poor Lane.
The Brit had quite a bit of trouble trying to fit in with the American go-getters on "Mad Men" despite his name on the door as partner in Sterling Cooper Pryce Draper.
The stiff upper lip didn't quite fit in with the heavy drinking and carousing that was part of the business on Madison Avenue depicted on TV's best and most brilliantly detailed drama.
The British invasion may have been going on all around him culturally, but you'd hardly notice the tweedy character taking advantage of that. Instead he had demons, demands, fears of losing his Visa or sense of class (an ouster of the son's boarding school?) and a soft spot for Joan. Maybe that was where he shared the differences with his fellow partners.
The lone holdover from Putnam Powell and Lowe, he knows a thing or two about survival on the job. But in a season that saw fisticuffs with Pete Campbell and virtually pimping out Joan, he topped himself Sunday.
He talked about it to reporters Monday (spoilers to follow).
As an actor, Jared Harris has a lineage that could overshadow his work: son of Richard Harris; his stepfather was Rex Harrison, he's played a variety of roles from Captain Mike in "The Curious Case of Benjamin Buttons" to John Lennon in "Two of Us" to Andy Warhol in "I Shot Andy Warhol."
But he may be come to be defined by Lane Pryce, which he's played for two seasons on "Mad Men." It all ended badly Sunday when, caught in a check forgery to pay a loan, Don demanded his resignation and he ended up committing suicide.
Though an attempt to asphyxiate himself in a Jaguar his wife bought him goes comically wrong (the car won't start), he succeeds in hanging himself in the office after typing his resignation.
"Two hours of makeup, they snuck me into the back of the soundstage under an umbrella so nobody could see it," he told reporters on a conference call Monday. "Then they brought the actors in, so that was pretty much their reaction."
There was no joking around on the set, though Harris says, "I kept wanting to break into the Monty Python song 'Always Look at the Bright Side of Life,' while I was hanging there."
Generally, though, he says, "on the day we shot the hanging scene, it was pretty grim."
Harris says Pryce's reason for killing himself at the office "was vindictive; he was angry and it was a passive aggressive act. His choice of doing it there was fuck you to Don and the people at the office and the passive part was the boilerplate suicide note which says nothing."
It was the second time one of his characters died on TV this season, after his David Robert Jones expired on "Fringe."
He'll go on to play Grant in Steven Spielberg's upcoming production of "Lincoln."