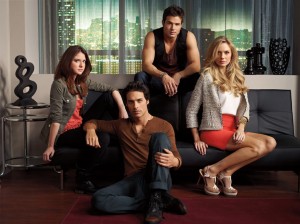 The last time English-language American TV adopted a Spanish-language telenovela, it was "Ugly Betty."
This time, it's resulted in "Hollywood Nights" (Nickelodeon, 9 p.m.), about a bunch of hopefuls in tinsel town. Which was pretty much the plot of the CW's "L.A. Complex," which expired last week. This one will run like a real telenovela, though: five nights a week all summer with 80 episodes total (making it a self-contained rather than ongoing soap).
It's about a teenage girl who wins a songwriting contest, meets her singing idol and gets involved in him. The teen soap is full of minor names, such as Brittany Underwood, Cody Longo, Melissa Ordway and Justin Wilczynski. But James Franco pops up later in the run, either to cut his own arm off, or to cut off the five night a week run.
Speaking of "L.A. Complex," don't confuse it with "The Hollywood Complex" (TMC, 9:30 p.m.), last year's documentary about the housing complex for aspiring young actors.
Game 6 of the Stanley Cup Final of Devils at Kings (NBC, 8 p.m.), with New Jersey again on the verge of elimination, finds its way back to prime time network TV. L.A. leads the series 3-2.
In addition to its telenovela, Nick revives its old game show "Figure it Out" (Nickelodeon, 7 p.m.), a variation of "What's My Line?" with celebrity panelists, which in their world are actresses from Nick at Nite comedies, Victoria Justice, Jennette McCurdy, Cymphonique Miller and — glad she's finding work — Rachel Crow, the young teen famously cut from "The X Factor."
On the new season of "The Secret Life of the American Teenager" (ABC Family, 8 p.m.), star Shailene Woodley has to determine whether to endure the series after winning awards for her role in "The Descendants." Maybe her mom, played by Molly Ringwald, declaring she's gay will help.
The concluding chapters of "Untamed Americas" (National Geographic, Nat Geo Wild, 9 p.m.) travel to the Amazon rain forest and the coasts of the continents.
Did I tell you I met the "Push Girls" (Sundance, 10 pm.) last week? I'll have to tell you about it soon.
Oprah wants to know: "Are You Normal, America?" (OWN, 9 p.m.). For example: Do you watch OWN?
There's a final round of auditions on "MasterChef" (Fox, 9 p.m.), but on "Hell's Kitchen" (Fox, 8 p.m.), Gordon Ramsay has already been eliminating people and will continue to do so tonight.
Emily has to do some eliminating as well as the 10 remaining suitors on "The Bachelorette" (ABC, 8 p.m.) join her in London. But when one of them calls her daughter "baggage," there's hell to pay.
Yet another celebrity hairstylist gets a reality show; this one must use a lot of hairspray, he's in the Windy City. But as a catchphrase, the show title "Chicagolicious" (Style, 9 p.m.) will not fly. "Conan" (TNT, 11 p.m.) originates his show this week from Chicago, maybe he'll get his famous hair done there.
How'd this happen? The Mowry sisters are getting more work as reality stars than they did as actresses. The second season of "Tia & Tamera" (Style, 8 p.m.) returns to follow their domestic lives.
For a small town, there's an awful lot of vehicle repossession on "Lizard Lick Towing" (truTV, 10 p.m.), returning for a third season.
Tear yourself away from your X-Box and review "The Top 100 Video Games of All Time" (G4, 8 p.m.).
A lizard-like character starts to become menacing on "Teen Wolf" (MTV, 10 p.m.), to both the vampires and the werewolves.
Last summer's "Glee Live! In Concert" (HBO Signature, 9 p.m.) runs on cable, minus the 3D. Unfortunately, it's playing opposite "Muppet Treasure Island" (HBO Family, 9 p.m.).
A little late for the Diamond Jubilee, "Monarchy: The Royal Family at Work" (PBS, 8 p.m., check local listings) is a replay of the 2007 documentary inside the palace.
Who says there isn't synergy on the Turner networks? In honor of the impending return of "Dallas" on TNT later this week, Turner Classic Movies salutes Larry Hagman, something that frankly had never come up before.  Before becoming J.R. he was also in "The Group" (TCM, 8 p.m.), "Harry and Tonto" (10:45 p.m.), "Ensign Pulver" (1 a.m.) and "Hopscotch" (3 a.m.).
In the European Soccer Championship, it's France vs. England (ESPN, noon) and Ukraine vs. Sweden (ESPN, 2:45 p.m.).
In baseball, it's Red Sox at Marlins (ESPN, 7 p.m.).
Daytime Talk
Kelly Ripa: Noah Wyle, Bristol Palin, Jerry O'Connell. The View: The Cast of "Dallas," Gladys Knight, Gretchen Carlson. The Talk: Tom Arnold, Chesley Sullenberger, Rachel Hollis, Molly Ringwald. Ellen DeGeneres: David Spade, Bethenny Frankel (rerun).
Late Talk
David Letterman: Mark Wahlberg, Sebastian Vettel. Jay Leno: Elizabeth Banks, dan Patrick, Brandi Carlile Jimmy Kimmel: Andy Samberg, EdwardSharpe & the Magnetic Zeros (rerun). Jimmy Fallon: Keira Knightley, Eric Andre, Glen Hansard. Craig Ferguson: Jason Schwartzman, Rory Scovel. Tavis Smiley: Colin Powell. Carson Daly: Piers Morgan, Thee Oh Sees (rerun). Jon Stewart: Boris Johnson. Stephen Colbert: Martin Sheen. Conan O'Brien: Jack McBrayer, Grace Poter and the Nocturnals. Chelsea Handler: Gabriel Macht, Joe Matarese, Sarah Colonna, Brad Wollack..