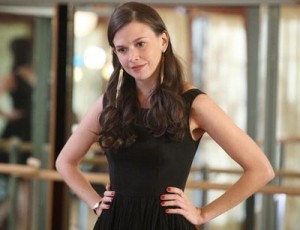 Fans of "Gilmore Girls" can take heart in more than reruns and Alex Bledel popping up on "Mad Men." The show's spirit has been virtually resuscitated in a new series from creator Amy Sherman-Palladino.
"Bunheads" (ABC Family, 9 p.m.) is set on the West Coast instead of the east and involves a fast-talking, wise-cracking single woman who seems to have time traveled from a screwball comedy.
Sutton Foster, whose credits are on "Broadway," is Michelle Simms, a dancer who has stayed too long in Vegas, where she is a showgirl that can't shutup even as she's performing. She has a suitor she can't shake, so she agrees to marry him and live in his Oceanside home. Turns out he lives with his mother –Emily Gilmore herself, Kelly Bishop, returning to her "Chorus Line" roots as a dance teacher. There, Michelle finds her self useful as a teacher for hopeful ballerinas (who are called, in some universe, "bunheads" because they wear their hair in buns).
More of it works than doesn't work – it's not really a good fit on ABC Family either. But in the rapid fire patter, about half the dialog rings with humor.  Bishop is almost a parody of herself by now, but you can see how the series will be based on their back and forth, just the way, er, "Gilmore Girls" was. Foster is, like her character, a little too old for this, and doesn't quite fit in, which may make her perfect for it, paradoxically.