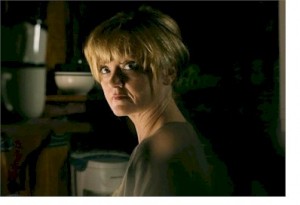 The line between true crime documentary re-enactment and true crime docudrama gets further blurred with "Final Witness" (ABC, 10 p.m.). Like a lot of shows on the edges of cable, on networks like truTV and Investigation discovery, this one retells sordid crimes through the voice of the murdered victims.
In this, it's like another ABC drama from a few years back, "The Forgotten."
The first episode shows a better quality re-enactment, balanced against the memories of the much less good-looking prosecutors and survivors. There's a lot of atmospheric indie pop playing amid the impressionistic camera work.
In the end, though, it seems neither fish nor fowl – a time waster during summer months; better than a reality show but not as solid as a newsmagazine report.
Speaking of reality, another gaggle of young people with several months to spare join up for the 27th season of "The Real World" (MTV, 10 p.m.). And while an exotic vacation has been part of recent seasons, the current one is set there – in Saint Thomas, the Virgin Islands – a location completely unknown to some of its participants.
In the premiere, the new roommates eye one another, get drunk, and in one case, gets morose and goes hot tubbing naked. But he's the former drug addict. With the usual sprinkling of different types, the mix makes this island adventure no "Lost" nor even "Gilligan's Island."
For the 200th episode of "So You Think You can Dance" (Fox, 8 p.m.) it's all feel good: the season's Top 20 will be named, and they will be allowed to show their best moves and not worry about any elimination this week.
This doesn't seem right: The U.S. Olympic swimming team trials (NBC Sports, 8 p.m.) gets one hour, but the unveiling of the Top 48 on "America's Got Talent" (NBC, 9 p.m.) gets two.
On the second chapter of "Inside Men" (BBC America, 10 p.m.), plans for the heist deepen.
Remaining chefs on "Around the World in 80 Plates" (Bravo, 10 p.m.) are up against Alvin "The Demon Chef" Leung.
An insurance fraud scheme in Philadelphia is examined on a new "American Greed: Scams, Scoundrels and Scandals" (CNBC, 10 p.m.).
The "Diamond Divers" (Spike, 10 p.m.) have time for a bar fight.
The good thing about the plethora of reality programming in summertime is that there's plenty of material for "The Soup" (E!, 10 p.m.).
What happens when twins are so close they still want to live together when one of them gets married? "Twintervention" (TLC, 10 p.m.).
Henry Winkler returns as the con man/dad on "Royal Pains" (USA, 9 p.m.).
"Baggage Battles" (Travel, 10 p.m.) moves to Vancouver, where the exchange rate probably affects the bidding.
"Hollywood Exes" (VH1, 9 p.m.) begins its run on its regular night. Commence the catfighting!
A slumping slugger seeks help on "Necessary Roughness" (USA, 10 p.m.).
J.R. is a little more potent than his initial appearance would indicate on the revived "Dallas" (TNT, 9 p.m.).
The actor considers nothingness on a new "Through the Wormhole with Morgan Freeman" (Science, 10 p.m.).
"Adam Richman's Best Sandwich in America" (Travel, 9 p.m.) eats its way to Baltimore, Richmond and DC.
The case of the West Memphis Three is recounted on "48 Hours on ID" (OWN, 9 p.m.).
The Wednesday night showcase on the immigrant experience winds up on Turner Classic Movies with "Delicious" (8 p.m.), "The Immigrant" (10 p.m.), "Anything Can Happen" (10:30 p.m.), "Come Live With Me" (12:30 a.m.), "Paddy O'Day" (2:15 a.m.), "Three Cheers for the Irish" (3:45 a.m.) and "At Sea Ashore" (5:30 a.m.).
It slipped my memory that Donald Sutherland, Paul Reubens and Rutger Hauer were all in the original movie of "Buffy the Vampire Slayer" (IFC, 8 p.m.), now 20 years old.
In baseball, Tigers at Rangers (ESPN, 8 p.m.) gets a national audience.
More early round action is scheduled this morning at Wimbledon (ESPN2, 7 a.m.).
And in a European Soccer semifinal it's Portugal vs. Spain (ESPN, 2 p.m.).
Daytime Talk
Kelly Ripa: Andrew Garfild, Seth MacFarlane, Theresa Caputo, Michael Strahan. The View: Terry Caffrey, the Jacksons. The Talk: Adam Rodriguez, Tiffani Thiessen, LeVar Burton, Amelia Santaniello. Ellen DeGeneres: Drew Barrymore, Octavia Spencer, Flo Rida (rerun).
Late Talk
David Letterman: Channing Tatum, the Gaslight Anthem. Jay Leno: Mila Kunis, Jim Norton, Justin Bieber. Jimmy Kimmel: Matt LeBlanc, Selma Blair, Linkin Park. Jimmy Fallon: Salma Hayek, Aaron Sorkin, the Jacksons, LMFAO, Angelo Moore. Craig Ferguson: Lisa Kudrow, Harvey Weinstein. Tavis Smiley: Peter Edelman. Carson Daly: Erin Burnett, the White Buffalo (rerun). Jon Stewart: Andrew Garfield. Stephen Colbert: Melinda Gates. Conan O'Brien: Chris Pine, Anthony Mackie, El-P. Chelsea Handler: Oliver Stone, Ben Gleib, Jen Kirkman, Josh Wolf.