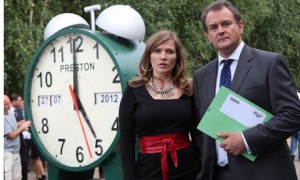 It's less than a month now before the opening ceremonies of the 2012 Olympics. And things are likely at a frenzied stage getting finishing touches done on the east End.
It's a very different pace, 1,000 days out, when the very funny British faux documentary "Twenty Twelve" (BBC America, 9 p.m.) begins. There's still time to muck up just about everything and that's exactly what the people in the Olympic Deliverance Commission does.
Hugh Bonneville, fresh from "Downton Abbey," leads the commission which includes a hilariously empty-headed p.r. person, an Ed Norton-like infrastructure person who can't do a thing to improve already snarled traffic in time for the games and a women in charge of sustainability who can't convince her colleagues what exactly that is. It's a funny premise for a very droll, deadpan series, the best from Britain since "The Office." It begins its run with three consecutive episodes tonight, it continues Saturdays at midnight, right up to the games.
Proof that documentaries can change things comes tonight on "POV" (PBS, 10 p.m., check local listings). Pamela Yates' 1983 film "When the Mountains Tremble" about Guatemala's war against its Mayan people was used as evidence of brutality, leading to charges against the former dictator Efrain Rios Montt. That process is caught in "Granito: How to Nail a Dictator" by Yates with Peter Kinoy and Paco de Onis.
Expect all the networks to cut in at 10 this morning with the news stations to cover the Supreme Court Health Care Ruling. Some will add additional coverage, such as ABC, which even gave it a name: "After the Ruling: Health Care in America" (ABC, 10 a.m.).
Depending on what they decide, the contestants may want to watch themselves on the season premiere of "Wipeout" (ABC, 9 p.m.).
The theme this summer on "Wipeout" is Hotties vs Nerds. Which makes me think: Whatever happened to "Beauty and the Geek"?
Quite a night for comedy premieres – six, including the second season return of the high school series "Awkward" (MTV, 10 p.m.), certainly the best and most assured comedy from the network in years.
If they're going to pull the plug on "Duets" (ABC, 8 p.m.) they might as well, ahem, duet.
Along these lines, "Take Me Out" (Fox, 8 p.m.) should also be taken out.
The best reality show at 8 p.m. is the U.S. Olympic Swimming Trials (NBC, 8 p.m.).
The two bad new scripted summer shows also have new episodes too: "Rookie Blue" (ABC, 10 p.m.) and "Saving Hope" (NBC, 9 p.m.).
Archeologists have been adversely affected by the Arab Spring, according to one of the reports on "Rock Center with Brian Williams" (NBC, 10 p.m.).
On the new "Chef Wanted with Anne Burrell" (Food Network, 10 p.m.) restaurants get a hand in finding executive chefs from an expert.
On the new "Trip Flip" (Travel, 9 p.m.), Bert Kreischer springs surprise trips on random tourists.
Women get to sit in the chairs on "The Choice" (Fox, 9 p.m.) but it doesn't seem to be any improvement. With Carmen Elektra leading the four, it's about star fawning for the guys.
The month-long Thursday night showcase of teen idols on Turner Classic Movies concludes with Tommy Steele in "Finian's Rainbow" (8 p.m.), Herman's Hermits in "Mrs. Brown You've Got a Lovely Daughter" (10:30 p.m.), the Monkees in "Head" (12:30 a.m.), and Paul Anka in "Look in Any Window" (2:15 a.m.).
The NBA Draft (ESPN, 7:30 p.m.) takes place in Newark. Don't mistake the start of "The X Games" (ESPN2, 9 p.m.) with "The X Files" I Want to Believe" (Fox Movie Channel, 9:30 p.m.).
Tennis continues at Wimbledon (ESPN2, 7 a.m.) this morning.
U.S. Olympic trials are also held in Gymnastics (NBC Sports, 5:30 p.m.) and Track & Field (NBC Sports, 9 p.m.).
Daytime Talk
Kelly Ripa: Channing Tatum, Carly Rae Jepson, Char, Micahel Strahan. The View: Taylor Kitsch. The Talk: Elizabeth Banks, Jeff Lewis, Kate Bilo. Ellen DeGeneres: Kellie Pickler, Joel McHale, Marquese Scott (rerun).
Late Talk
David Letterman: Blake Lively, Drew Brees, Moody McCarthy. Jay Leno: Tyler Perry, Rhys Ifans, Keane. Jimmy Kimmel: Howie Mandel, Chris Bosh, Linkin Park. Jimmy Fallon: Channing Tatum, Oliver Stone, Maroon 5. Craig Ferguson: Denis Leary, Brandi Carlile. Tavis Smiley: Freddie Roach, Peter Berg. Carson Daly: Jim Gaffigan, LP, Ed Sheeran. Jon Stewart: Tenacious D. Stephen Colbert: Aaron Sorkin. Conan O'Brien: Mark Wahlberg, Billy Eichner, Infantree. Kathy Griffin: Jane Fonda, Lisa Ling, Sharon Osbourne. Chelsea Handler: Joe Manganiello, Liz Carey, Sarah Colonna, Fortune Feimster.