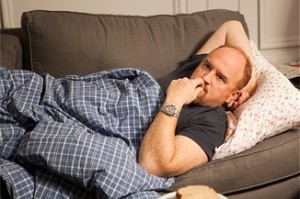 The real gem amid the FX comedy lineup is "Louie" (FX, 10:30 p.m.). After a season where Louis C.K.'s comedy took some equally dramatic turns, the third is brimming with more of that same mix – not trying for the obvious laugh and not avoiding the touchy dramatic content.
Let's avoid the nonword dramedy to describe it though. With its footing in the comedy club framing its always had – jokes come first (and often last) in the series. But because C.K. writes, directs, stars and even edits his own show, it has much more of an auteur stamp on it than nearly anything else on television. And more than any other current show, is more a throwback to independent American cinema of the 1970s than anything else. And that is a very good thing. He would have fit in fine in "Five Easy Pieces."
Tonight's season premiere he breaks up with a girlfriend out of lethargy, setting the stage for a season-long theme of finding some sort of romance, which has shocking and bewildering results in the coming weeks (from surprisingly big name actresses).
As for the other FX comedy offerings tonight, "Willard" (FX, 10 p.m.) is a thing I never got. Elijah Wood plays a fragile young man, with a crush on the girl next door, whose dog suddenly talks to him, smokes cigarettes and looks essentially like an Australian actor who originated the role there (which he is). Not edgy, not funny, not even very interesting.
Even worse, I'm afraid is the weekly topical "Brand X" (FX, 11 p.m.) which isn't so much a talk show as a half hour monologue from the free-associating and often annoying long-haired British fop.
The initial episode is a complete train wreck, as the news items he chooses to riff upon is the one about him meeting the Dali Lama (an item that is a little less important to everyone else than it is to him).
Well, he can't squeeze too much out of this and when you return from commercial breaks, he's still going on about the Dali Lama. His voice is so high-pitched and he speaks so rapidly, pretty soon your mind will wander as he goes on and on. Someone stop him.
Could it be any worse than, say, "Kathy" (Bravo, 10 p.m.)? Well I don't know, I haven't seen that one yet. But it probably is.