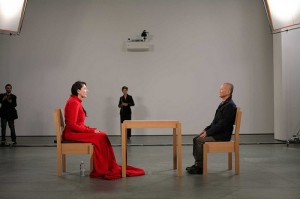 Matthew Akers' perfectly paced film about the performance artist, "Marina Abramovic: The Artist is Present" (HBO, 9 p.m.) follows her preparations for her big retrospective at the Museum of Modern Art. As such, it allows plenty of time to tell the story of the Serbian-born artist whose work in performance art dated back nearly four decades.
The recreation of her most famous pieces are in the show, but its centerpiece is her work "The Artist is Present," in which she sat in a chair for three months, seven and a half hours a day and allowed viewers to sit opposite her.
Without speaking, she'd give each person her full gaze, seemingly looking into their souls, one by one. She has such an effect on viewers that many return dozens of times; lines to sit opposite her grow each day. Abramovic is exhausted each day for paying her full attention to each individual, and Akers cameras are there when she sits opposite her former lover and collaborator Ulay, when they decide to remove the table that separates the two chairs in the gallery, when a woman pulls off her own clothes and tries to sit naked opposite her, and when the actor James Franco takes part as well.
Most of all, her audaciously simple piece has a powerful effect on all before her – one that's evident from the film as well.  In an age when people do not see one another, let alone listen to people all around – here was something astounding: Someone who did.