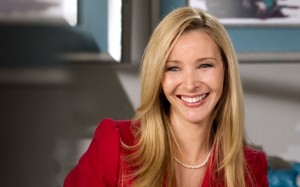 The night after an ex-"Friends" cast mate, Matt LeBlanc, began the second season of his acclaimed show, "Episodes," (Showtime, 9:30 and 10:30 p.m.), Lisa Kudrow begins the second season of her own Showtime comedy, "Web Therapy" (Showtime, 11 p.m.).
The brilliant premise, of a doctor who only sees people through web-cam is perfect for the era of watching on different platforms (on computer may be the best way). The success of the show and its freedoms have attracted a wide array of talent, including this season, Meryl Streep, Minnie Driver, Rosie O'Donnell, Conan O'Brien and a third former "Friends" costar David Schwimmer.
On the new "Four Houses" (TLC, 10 p.m.), the owners of four striking abodes visit and rate the other three homes, raking them on originality, style and livability. The winner gets $10,000. From the first episode, it's clear that some withhold their praise just so their own chances would increase. Hardly any one of them can stand being in the others' homes.
The U.S. Olympic Team Swimming Trials (NBC, 8 p.m.) wrap up in Omaha.
On "The Bachelorette" (ABC, 8 p.m.) it's time for the hometown visits for the four remaining suitors.
"America's Got Talent" (NBC, 9 p.m.) sees a dozen acts from the Top 48 perform at the New Jersey Performing Arts Center (funny, I don't remember the judges using the catchphrase, "You're going to Newark!").
The assignment on "Cake Boss" (TLC, 9:30 p.m.) is to create a Dr. Seuss inspired cake.
With the elimination of the Alpha goofs the first week. "The Glass House" (ABC, 10 p.m.) is more female dominated.
"The Real Housewives of New York City" (Bravo, 9 p.m.) plan their impending trip to London.
There's a food truck contest on "MasterChef" (Fox, 9 p.m.). It follows a Vegas challenge on "Hell's Kitchen" (Fox, 8 p.m.).
On "Tanisha Gets Married" (Oxygen, 10 p.m.), even bad girls get cold feet.
The movie made starring Julia Sweeney's "Saturday Night Live" character of indeterminate gender, "It's Pat" (Flix, 8 p.m.) gets a rare showing.
Didn't realize there was a bio-film on Celine Dion's life. "Celine" (TV Guide Network, 8 p.m.) came out in 2008.
Today and every night through Independence Day is "Independence Day" (AMC, 8 p.m.).
Big adventure films on Turner Classic Movies tonight with "Mogambo" (8 p.m.), "Elephant Walk" (10 p.m.), "Stanley and Livingstone" (midnight), "Scott of the Atlantic" (2 a.m.) and "King Solomon's Mines" (4 a.m.).
In baseball, Yankees at Rays (ESPN, 7 p.m.) gets a national audience.
Wimbledon (ESPN2, 7 a.m.; ESPN, 8 a.m.) moves to the round of 16. And it's stage 2 of the Tour de France (NBC Sports, 8 a.m.).
Daytime Talk
Kelly Ripa: Sally Field, Michael Strahan. The View: Lisa Kudrow, Angela "Big Ang" Raiola, Peter Greenberg. The Talk: Betty White, Mehcad Brooks, Mel Robbins (rerun). Ellen DeGeneres: Andrew Garfield, Edie Falco, Mo Isom (rerun)..
Late Talk
David Letterman: Elizabeth Banks, Edward Sharpe & the Magnetic Zeros (rerun). Jay Leno: Katy Perry, Michael Wigge, Needtobreathe (rerun). Jimmy Kimmel: Jada Pinkett Smith, Matt Kemp, the Temper Trap (rerun). Jimmy Fallon: Charlie Sheen, Beth Ostrosky Stern, Anthony Davis,  Alabama Shakes (rerun). Craig Ferguson: Julie Andrews, Michael Emerson (rerun). Tavis Smiley: Elijah Wood. Carson Daly: Katharine McPhee, Wallpaper (rerun). Jon Stewart: .Steve Carell (rerun) Stephen Colbert: Lawrence Krauss (rerun). Conan O'Brien: Steve Martin, Rebecca Romijn, Cake (rerun). Chelsea Handler: Kylie Minogue, Chris Franjola, Lauren Lapkus, T.J. Miller (rerun).