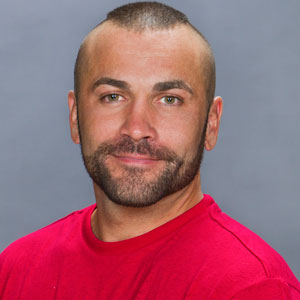 The name Hantz provides an instant pass to all CBS reality shows, so after Russell Hanz, who appeared on three versions of "Survivor," and his nephew Brandon Hantz who appeared on another season, a younger brother, Willie Hantz, 34, pictured left, of rural Texas will be part of the cast of "Big Brother 14," it was announced Thursday.
His won't be the biggest name playing– four veterans who will be part of the game and announced on the premiere next Thursday. But the other 12 civilians were also named today.
They include the tattooed former bassist for the band Kittie, Jenn Arroyo, 37 of Brooklyn; a couple of dudes with dreamy hair, the Fabio lookalike Wil Heuser, 24, of Louisville; and curly headed unemployed 28-year-old Frank Eudy, 28 of Marion, Ark.
There's a wild-eyed chef, Joe Arvin, 41, of Lexington, Ky., who looks to be the oldest of the bunch, along with Jodi Rollins, 42, a restaurant worker from Calipatria, Calif., who is a restaurant server who is also the token person of color this season.
House flipper Shane Meaney, 26, of Bennington, Vt., is pictured as another hunk of the house and there is no shortage of requisite babes Ashley Iocco, 26, of West Hollywood, Calif., the owner of a mobile spray tanning company; Danielle Murphree, 23, a nurse from Tuscaloosa; JoJo Spatfora, 26, a bartender from Staten Island. Having them all beat is Kara Monaco, a former Playboy model, 29, from Orlando.
Rounding out the stereotypes in the nerd slot is Ian Terry 21, of Pittsburgh, an engineering student in New Orleans (he wears glasses!).
They'll move into the refurbished house "styled in urban pop culture décor," with sneakers adorning the wll of one room, and headphones the theme of another. They'll be competing for a $500,000 prize and once more take up network TV time on Sundays, Wednesdays and Thursdays, providing a live feed to subscribers. A three hour nightly live feed will once more be available on Showtime 2, "Big Brother After Dark" starts Friday July 13 (really early Saturday the 14th) at 1 a.m.
The question is whether "Big Brother" will gain any traction when it premieres next Thursday at 9 p.m. now that it has competition with ABC's "Glass House." But that show, while ruled not a direct steal, hasn't exactly been racking up the ratings.