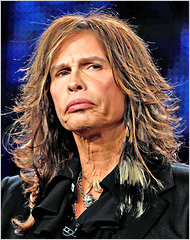 It stands to reason that Steven Tyler's official resignation from "American Idol" would be as nonsensical as most of his spoutings serving two seasons as judge.
"After some long…hard…thoughts…I've decided it's time for me to let go of my mistress 'American Idol' before she boils my rabbit," he said in his official statement via Fox Thursday.
It was a "Fatal Attraction" riff.
"I strayed from my first love, Aerosmith, and I'm back – but instead of begging on my hands and knees, I've got two fists in the air and I'm kicking the door open with my band. The next few years are going to be dedicated to kicking some serious ass – the ultimate in auditory takeover…," he said. " 'Idol' was over-the-top fun, and I loved every minute of it…Now it's time to bring Rock Back. ERMAHGERD."
Such is the enlightened judgment the next horde of hopeful contestants will be missing next season. He also found time to plug the release date for the band's new album (we, however, did not).
Fox didn't announce a replacement for him; Jennifer Lopez has also been hinting she might not be returning, most recently in answer to a question Thursday on the "Today" show that was only a little bit more coherent than Tyler's missive.
"It's been on my mind a lot, as you can imagine," she said in fits and starts. "You know, I signed on to 'American Idol' to do one year, and… I wound up doing the two years. And now it's like, 'OK, do we continue on this journey?'"
For Tyler, his farewell fits solidly with some of his odder "Idol" judgments, when he was paying attention at all. Sometimes, the rocker girls would be especially excited to be singing for him, which led to some off-putting shots of them hugging and kissing him. At 64, and dressed in beads and scarves, the scenes of him ogling teens could be a little uncomfortable.
Earlier this year, before his second season as judge, I asked him how his high-profile on the pop program had affected his band and his own credibility in the rock community.
"Well, it wasn't really accepted up front, I must admit, mostly from my own bandmates because they didn't know what was going on with the Aerosmith thing at the end," Tyler said. "But, you know, it's brought nothing but younger kids to our music anyway. We haven't had an album out for a while. We are working on it now. And it's just, you know really, I can't go anywhere now. It was like that before, but I can't go anywhere now because of the show, because of the notoriety, because it took Aerosmith sales up 260 percent last year.
"I can't let down the rock 'n roll community by [doing] 'Idol.' I'm a judge. I've judged myself for years, and Aerosmith has been really successful. So, I mean, it's all been good."
He will be remembered on the show not only for ogling the teens inappropriately but for quotes like these:
"What's with the juju bees on your ooh-ooh bees?"
"The things that come to those that wait may be the things left by those that got there first."
"I never heard anyone squeeze the flavor of that song. You squeezed it out so slow, it was like vanilla fudge in Eleanor Rigby."
"You had me sold the second you laid eyes on me."
"Slap that baby on the ass and call me Christmas."
"In the immortal words of John Lennon, 'Do you know any more?'"