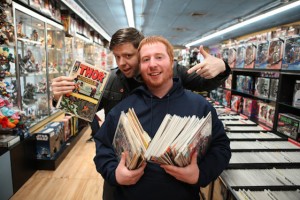 Leave it to the week of Comic-Con for a one hour special on the obsessives who hang out at comic book shops.
Never mind that Kevin Smith pretty much covered the same subject in his fairly entertaining "Comic Book Men." But the one hour "Comic Store Heroes" (National Geographic, 8 p.m.) follows several stories at Midwotn Comics in New York City as it prepares for its own New York Comic Con.
So there's a forced competition among employees, pranks, buying top dollar comics from the public for high resale. Ther's a quest for a particular title: "Hot Stuff" No. 1. And the author of a new comic book who wants to get it in stock. Could a series be next?
A season finale comes for "The Ricky Gervais" (HBO, 9 p.m.) in which Karl talks about how evolved every species is becoming. Everybody but him.
What better place to go "Chasing UFOs" (National Geographic Channel, 10 p.m.) than Roswell, N.M. This week was the 65th anniversary of the crash there that led to rumors of a UFO landing.
Ben DeJesus' film "John Leguizamo's Tales from a Ghetto Klown" (PBS, 9 p.m., check local listings) gives a behind the scenes look at the actor and playwright as he prepared his 2011 one-man show, "Ghetto Klown" which he took to his native Colombia and performed in Spanish. Leguizamo's voice is also in the new "Ice Age" movie (but they probably won't mention that). It's part of PBS Friday Night Arts Festival.
The metal pioneer turned reality show clown is profiled in the feature "God Bless Ozzy Osbourne" (Showtime, 9 p.m.), a bio film by Mike Fleiss and and Mike Piscitelli that was produced in part by son Jack Osbourne.
Paul Rudd guest stars on "Comedy Bang! Bang!" (IFC, 10 p.m.).
Slater's 10 year marriage is on the rocks, perhaps because he has been referring to it as the "Louisiana Lockdown" (Animal Planet, 10 p.m.).
Chris Cuomo reports on summer vacation pitfalls on a two hour "20/20" (ABC, 9 p.m.).
To mark what would be his 100th birthday, Turner Classic Movies shows four films by Sam Fuller: "I Shot Jesse James" (8 p.m.), "Park Row" (9:30 p.m.), "Shock Corridor" (11 p.m.) and "The Naked Kiss" (12:45 a.m.).
Stage 12 of the Tour de France (NBC Sports, 8 p.m.) from Saint-Jean-de-Maurienne to Annonay Davezieux.
Daytime Talk
Kelly Ripa: Ray Romano, Kristen Johnston, Seth Meyers. The View: Sigourney Weaver, Dr. Frederic Brandt. The Talk: Scott Foley, Fred Willard, Katie Workman, Beth Behrs. Ellen DeGeneres: Elle Pompeo, Glen Campbell (Rerun).
Late Talk
David Letterman: Mark Wahlberg, Sebastian Vettel, Black Box Revelation (rerun). Jay Leno: Dana Carvey, Nicki Minaj. Jimmy Kimmel:  Gary Oldman, Rob Riggle, the Dirty Heads (rerun). Jimmy Fallon: Anne Hathaway, Yoko Ono, Sean Lennon, Joe Jackson. Craig Ferguson: Morgan Freeman (rerun). Tavis Smiley: Marcus Samuelsson. Carson Daly: Jodi Kantor, Oren Peli, Dr. Dog (rerun). Chelsea Handler: Zach Wahls, April Richardson, Heather McDonald, Loni Love (rerun) .