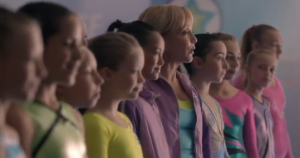 In lieu of gymnastics, there's an American Girl movie that's already been available on DVD for a couple of weeks. "An American Girl: MdKenna Shoots for the Stars" (NBC, 8 p.m.) makes its broadcast premiere, about a young gymnast who strives to compete despite trouble with her studies. Jade Pettyjohn plays the girl who could be a doll, and the cast includes Nia Vardalos, Ian Ziering and Cathy Rigby.
Toys sold separately.
Though he's been spending the last several weeks hosting the tawdry dating shw "Take Me Out," recently unemployed late night host George Lopez goes back to his original talent with the new standup special "George Lopez: It's Not Me, It's You" (HBO, 10 p.m.).
It's one of a couple of comedy specials by better-known comics. The other is "D.L. Hughley: Reset" (Showtime, 9 p.m.).
The deliciously weird John Noble from "Fringe" plays the Rod Serling card in hosting "Dark Matters: Twisted But True" (Science, 10 p.m.), returning for its second season. He investigates fact-based tales, which tonight include Charles Lindbergh's flirtation with Nazis, a song so sad it caused a spate of suicides and the case of the early live human organ transplant.
Justin Timberlake stars in the cable premiere of "In Time" (HBO, 8 p.m.) Other cable movies tonight include last summer's "Pirates of the Caribbean: On Stranger Tides" (Starz, 9 p.m.) with Johnny Depp; and Vin Diesel in "Fast Five" (Cinemax, 10 p.m.)., the fifth installment in the "Fast and Furious" series. Which I thought the government shut down.
Depp also appears in "Edward Scissorhands" (ABC Family, 7:30 p.m.) and "Alice in Wonderland" (ABC Family, 9:30 p.m.).
There's a double play of Leonardo DiCaprio double feature too with "Inception" (More Max, 6:30 p.m.) and "Titanic" (More Max, 9 p.m.)
A pooch who pilfers coffee is certainly a "Bad Dog!" (Animal Planet, 9 p.m.).
Back to back episodes of "NYC 22" (CBS, 8 and 9 p.m.) constitutes a "NYC 44."
The reality series about a baltimore sports memorabilia store, "Ball Boys" (ABC, 9 and 9:30 p.m.) is back with a pair of episodes.
A half dozen movies starring Fred MacMurray are on Turner Classic Movies: "Alice Adams" (8 p.m.), "The Princess Comes Across" (9:45 p.m.), "No Time for Love" (11;15 a.m.), "A Millionaire for Christy" (12:45 a.m.), "Kisses for My President" (2:30 a.m.) and "Too Many Husbands" (4:30 a.m.).
Make it an Olivia Newton John night with both "Xanadu" (Flix, 8 p.m.) and "Grease" (HBO Family, 9 p.m.).
Baseball's back with Tigers at Orioles (Fox, 3:30 p.m.) amog the games.
Stage 13 of the Tour de France (NBC Sports, 8 a.m.) runs from Saint-Paul-Toris-Chateaux to Le Cap d'Agde.
Kenny Chesney plays a rerun of "Austin City Limits" (PBS, 9 p.m., check local listings).
One of the best episodes of "Saturday Night Live" (NBC, 11:30 p.m.) this season was this one with Melissa McCarthy hosting and Lady Antebellum as musical guest.