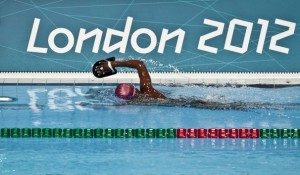 The games begin in earnest, and after a huge audience for Friday's opening ceremony, the other networks quietly beg off, even more than they do already in the dead of summer.
So for now, let's get interested in women's basketball with U.S. vs. Croatia (NBC, 11:45 a.m.), women's volleyball with U.S. vs. South Korea (NBC,3 p.m.) and in men's beach volleyball (NBC, 5 p.m.), two U.S. men Jake Gibb and Sean Rosenthal vs. two men of South Africa, Freedom Chiya and Grant Goldschmit.
In prime time, the night long 2012 London Olympics (NBC, 8 p.m.) main broadcast features Michael Phelps vs. Ryan Lochte in the 400-meter individual medley as well as as Misty May-Treanor and Kerri Walsh Jennings in beach volleyball qualifiers. Also: the 400-meter individual medley in women's swimming and a men's gymnastic qualifier.
The comedy "Twenty Twelve" (BBC America, midnight) is reaching its end with all manner of little disasters as the opening ceremonies approach. For example, will the fireworks trigger security missiles as well? Hugh Bonneville, better known for his role on "Downton Abbey," jokingly told me his approach to Ian Fletcher, director of the Olympic Deliverance Commission: "Same act, different clothes." But Lord Grantham never had these problems, being shot in the foot by a starting pistol that got live ammunition, abandoned by his personal assistant, and still wondering to advance with Sally.
Daniel Craig sheds his James Bond persona that he took on famously in the Olympics opener to become a Manhattan publisher who meets weird New Englanders in last year's "Dream House" (Cinemax, 10 p.m.) with Rachel Weisz and Naomi Watts.
Elsewhere among premium cable premieres is Anna Faris in the romantic comedy "What's Your Number?" (HBO, 8 p.m.).
Elsewhere Michael Pare reprises his 1984 role in a new version of "The Philadelphia Experiment" (Syfy, 9 p.m.), about the making of an invisibility device for the military. Malcom McDowell and Nicolas Lea round out the cast.
The internet hit with the annoying voice returns for a third TV film after his first two hits. In "Fred 3" (Nickelodeon, 8 p.m.), Fred goes to summer camp against his will but gets in a rivalry with a highfalutin neighboring camp. Fred is seeming more and more the tween version of the old Ernest movies series.
A pickled pooch kicks off a night of new episodes of "Oddities" (Discovery, 8 p.m.).
With the rest of the world focused on London, BBC America turns to an American event through the eyes of an American host, as "The Nerdist" (BBC America, 9 p.m.) visits the recent Comic-Con in San Diego, with Chris Hardwick.
A Paris visit on "My Big Redneck Vacation" (CMT, 9 p.m.) follows an out of season one at home on "National Lampoon's Christmas Vacation" (CMT, 6:45 p.m.).
Last weekend's massacre is given an hour long report on "Madness at Midnight; The Search for Answers in Aurora" (CNN, 8 p.m.).
A honeymoon cruise turns bad on "Happily Never After" (ID, 10 p.m.).
A new episode of "NYC 22" (CBS, 8 p.m.) is the lone sacrificial new episode against the games on competing networks, which otherwise fill up with reruns.
Joan Crawford did some pretty campy roles in the 1960s, collected tonight in Turner Classic Movies, with "What Ever Happened to Baby Jane?" (8 p.m.), "I Saw What You Did" (10:30 p.m.), "The Caretakers" (midnight), "Strait-Jacket" (1:45 a.m.) followed by the 2002 documentary "Joan Crawford: The Ultimate Movie Star" (3:30 a.m.).
M. Ward and Okkervil River play a rerun of "Austin City Limits" (PBS, 9 p.m., check local listings).
It's the very rare Saturday night without "Saturday Night Live." It's preempted by Olympic women's basketball.