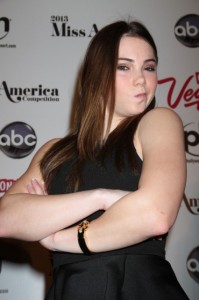 A couple of reality show hosts, Brooke Burke-Charvet and Chris Harrison, co-host the 2013 Miss America Competition (ABC, 9 p.m.). The 92nd annual event is live from the Planet Hollywood Resort & Casino in Las Vegas.
Organizers will tell you it's the single largest source of scholarship assistance for young women, which is a sort of sad statistic as well. They have to be judged in bikini wear to win it.
Among the judges are TV stars (such as Mary Hart) or some directly connected to ABC: Cheryl Burke of "Dancing with the Stars," Sam Champion of "Good Morning America" and Daymond John of "Shark Tank." But there's also McKayla Maroney, pictured, the Olympic gymnast better known for her smirk of disapproval. Hope she uses it a lot.
For a time the old contest was staged as a reality competition, but the closest they get to that this time is a behind the scenes news special, "Pageant Confidential: The Road to Miss America: A 20/20 Special" (ABC, 8 p.m.).
The latest singing star with her own reality show following her all around, "Cyndi Lauper: Still So Unusual" (WeTV, 9 p.m.) follows the woman who sang "Girls Just Want to Have Fun," never dreaming she'd still be singing it at age 59.
Two former prosecutors and best friends are new reality TV stars as well as cameras follow them as they start their own mediation practice on the new "Staten Island Law" (OWN, 9 and 9:30 p.m.). It joins such other New York-based reality shows as "Storage Wars New York" (A&E, 9 p.m.) and "NY ER" (Discovery, Fitness & Health, 10 and 10:30 p.m.).
The blazing fingers of guitarists Rodrigo y Gabriela perform on a new "Austin City Limits" (PBS, 9 p.m., check local listings).
Two big NFL divisional playoff games today feature Baltimore at Denver (CBS, 4:30 p.m.) and Green Bay at San Francisco (Fox, 8 p.m.).
In original movies tonight Naomi Judd and Danielle Panabaker star in "The Nearlyweds" (Hallmark, 9 p.m.), in which friends have to decide to make it legal when it turns out their wedding licences aren't legal. On "In the Dark" (Lifetime, 8 p.m.), a blind woman is stalked by the male nurse she hired to help her.
Cable movies tonight include the "American Pie" update "American Reunion" (HBO, 8 p.m.), "The Twilight Saga: Breaking Dawn Part 1" (Showtime, 8 p.m.), "Hysteria" (Starz, 9 p.m.) with Hugh Dancy, and "Sherlock Holmes: A Game of Shadows" (Cinemax, 10 p.m.).
If you can't get out to "Zero Dark Thirty" this weekend, you can see Kathryn Bigelow's previous Oscar winning film, "The Hurt Locker" (Fox Movie Channel, 8 p.m.).
"The Biggest Loser" (NBC, 8 p.m.) replays its two hour premiere from last Sunday, followed by Monday's premiere of "Deception" (NBC, 9 p.m.).
Josh Groban and Billie Piper are among the guests on a new "Graham Norton Show" (BBC America, 10 p.m.).
A big rock star begins hanging out with the group, threatening their appearance at a Sweet 16 party on a new "Wedding Band" (TBS, 10 p.m.).
The story of Joy Division lead singer Ian Curtis is told in the 2007 film, "Control" (Sundance, 8 p.m.).
"From Dusk Till Dawn 2: Texas Blood Money" (TMC, 9 p.m.) is followed by "From Dusk till Dawn 3: The Hangman's Daughter" (TMC, 10:30 p.m.).
Sibling rivalry is the theme tonight on Turner Classic Movies, with "What Ever Happened to Baby Jane?" (8 p.m.), "A Streetcar Named Desire" (10:30 p.m.), "The Little Foxes" (12:45 a.m.) and "East of Eden" (2:45 a.n.).
College hoops includes Georgetown at St. John's (ESPN2, 11 p.m.), Duke at North Carolina State (ESPN, noon), North Carolina at Florida State (ESPN 2 p.m.), Butler at Dayton (NBC Sports, 2 p.m.),  Oklahoma State at Oklahoma (ESPN2, 3 pm.), Pennsylvania at Princeton (NBC Sports, 6 p.m.), and Colorado State at San Diego State (NBC Sports, 8 p.m.).
The Christina Applegate-hosted edition of "Saturday Night Live" (NBC, 11:30 p.m.) is rerun, featuring Passion Pit as musical guest.