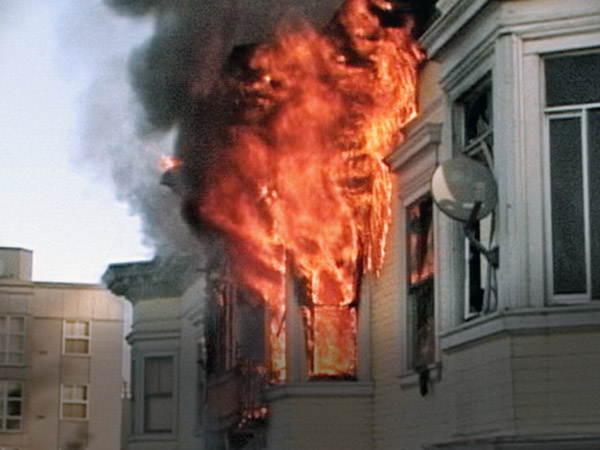 A weird way for the tobbaco industry to get the heat off of it for causing so many house fires over the years was to shift the blame to furniture: If it wasn't so flammable, the argument went, it wouldn't combust as readily when you stick a lit cigarette to it.
Thus came an odd edict for flame resistant chemicals in all furniture, whose untested, toxic chemicals expel into the air every time we flop on the couch. And when fire fighters do go into to burning homes full of such furniture (as the chemicals only slightly slow down, but do not stop, and possibly exacerbate fires) they are exposed to so much toxic fumes, their cancer rates have taken off.
The harm of toxic, flame retardant pajamas having led to their ban, now a newspaper investigation hopes to switch course on the paradoxical but dangerous chemical minefield meant to keep homes from burning. A documentary on the issue, "Toxic Hot Seat" (HBO, 9 p.m.) by James Redford and Kirby Walker, relies quite a bit on the reporters, but will nonetheless open your dies to a danger few consider.
Another strong documentary tonight looks into the political ramifications on the Pine Ridge Reservation to a South Dakota effort to eliminate virtually all abortion. "Young Lakota," on "Independent Lens" (PBS, 10 p.m., check local listings) by Marion Lipschutz and Rose Rosenblatt, introduces you to the thoughtful young woman Sunny Clifford, and the remarkable Lakota leader who inspires her, Cecilia Fire Thunder.
It's the final week of "Dancing with the Stars" (ABC, 8 p.m.), with the remaining four — Corbin Bleu, Bill Engvall, Jack Osbourne and Amber Riley — being cut to htree before they do their final numbers for votes. The mirror ball winner will be crowned Tuesday.
The remarkably watchable "Major Crimes" (TNT, 9 p.m.) with its strong cast but sometimes predictable action, returns for new episodes
The new four-part "Seriously Amazing Objects" (Smithsonian, 8 p.m.) from the holdings of the Smithsonians, concentrates on its main artifacts, from Lewis and Clark's compass to an early Wright contraption.
Country singer and "Apprentice" contestant John Rich begins a new talk show from Nashville, mostly featuring other country singers, "Rich at Night" (TV Guide Network, 8 p.m.).
Max starts pastry school on "2 Broke Girls" (CBS, 8:30 p.m.).
How could "How I Met our Mother" (CBS, 8 p.m.) get more annoying? How about a whole episode in nursery rhmes?
There are hostage situtations tonight on "Almost Human" (Fox, 8 p.m.) as well as the ongoing one on "Hostages" (CBS, 10 p.m.).
Hilary Duff plays the Ice Witch on the special "Dora's Ice Skating Spectacular" (Nickelodeon, 7 p.m.).
From the title, it seems the long film history on Turner Classic Movies is approaching its end: "The Story of Film: An Odyssey: 1990-1998 – The Last Days of Celluloid, Before the Coming of Digital" (2 a.m.) with the examples "Days of Being Wild" (8 p.m.), "Where is My Friend's House?" (10 .m.), "Beau Travail" (midnight) and "Funny Games" (3:15 a.m.).
Daytime Talk
Kelly & Michael: Stanley Tucci, Amber Tamblyn. The View: Newt & Callista Gingrich, Niecy Nash, Thalia. The Talk: Terry Crews, David Tutera, Carnie Wilson. Ellen DeGeneres: Lady Gaga. Wendy Williams: Perez Hilton, cast of "Preachers of L.A."
Late Talk
David Letterman: Josh Hutcherson, Sky Ferreira. Jay Leno: Bette Midler, Michael Buble. Jimmy Kimmel: Demi Lovato, Emile Hirsch, AFI. Jimmy Fallon: Kelly Ripa, Stephen Moyer, Mazzy Star, Jake Clemons. Craig Ferguson: Mark Harmon, Wolfgang Puck. Carlson Daly: Tony Lucca, Blue Hawaii, Alexa Meade (rerun). Tavis Smiley: Steven Bochco. Jon Stewart: Geoffrey Rush (rereun). Stephen Colbert: Lexis Ohanian (rerun). Arsenio Hall: Mario Lopex,Blake Leeper, Huicy J. Conan O'Brien" Mike Tyson, Katie Aselton, Spin Doctors (rerun). Chelsea Handler: Liz Carey, Pete Holmes: Joe Mande, Noah Garfinkel, Lolo Jomes.