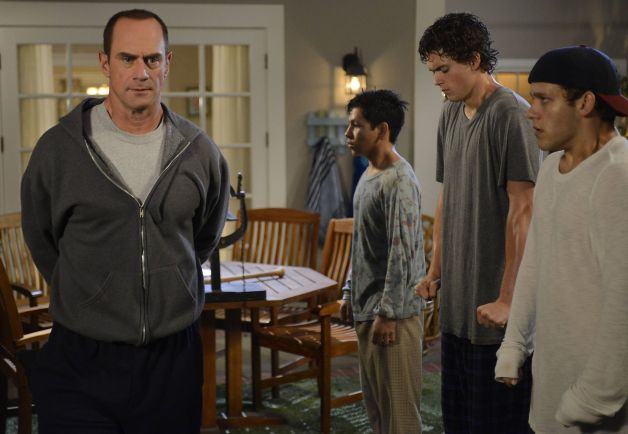 There is a false notion that if a family comedy is based on a witers' actual experience, then it must be funnier as well. That's he idea for "The Goldbergs," "Growing Up Fisher" and now "Surviving Jack" (Fox,
Unfortunately it's from Justin Halpern, the guy who tried the same trick with "#$%! My Dad Says." He's basing this one again on a little joke book, "I Suck at Girls" (Clearly a vulgar word is key to literary success). The guys's a little obsessive about dads, I guess, and making them look bad. If William Shatner's version was clueless, Christopher Miloni's is just mean.
It's set at a time (1991) when the notion of being a stay at home dad was seen as rife with comic potential. Now it's normal. And it's too bad that since Rachael Harris who plays the mom going off to law school and forcing the change in parenting, is hardly seen at all. Bill Lawrence of "Scrubs" and "Cougar Town" is behind it all, so there's a lot of talk of boobs and nearly no laughs.
Its main attribute, in fact, is in cutting down the results show of "American Idol" (Fox, 9 p.m.) to a half hour for the first time. On it, Janelle Monae will sing.
The victory lap for the soon to end "How I Met Your Mother" is appearing on "Inside the Actors Studio" (Bravo, 8 p.m.). There, James Lipton ought to be more attentive than those poor kid, listening to the same story for eight years.
The Madness resumes with the half of the 16 remaining teams in the NCAA tournament in action with Dayton vs. Stanford (CBS, 7:15 p.m.), Baylor vs. Wisconsin (TBS, 7:47 p.m.), UCLA vs. Florida (CBS, 9:45 p.m.) and San Diego State vs. Arizona (TBS, 10:17 p.m.).
There's another physical challenge on "Hell's Kitchen" (Fox, 8 p.m.). And maybe some cooking too.
Celebrities help build the youth programs on "Chicagoland" (CNN, 10 p.m.). Unless they pre-empt it with the endless yammering on the missing plane.
If all you're going to do is show two reruns of "Hollywood Game Night" (NBC, 8 and 9 p.m.), why not just shut the network down for the night for maintainence?
Doug and Claire treat eachother as dogs on a new "Portlandia" (IFC, 10 p.m.).
On a new "Review" (Comedy Central, 10 p.m.), Forrest tries to have sex with a celebrity and tries to fight crime in a Batman suit.
Who is Don Murray? He was in all these movies: "Bus Stop" (TCM, 8 p.m.), "A Hatful of Rain" (TCM, 10 p.m.), "Shake Hands with the Devil" (TCM, midnight), "The Hoodlum Priest" (TCM, 2 a.m.) and "One Man's Way" (TCM, 4 a.m.).
Daytime Talk
Kelly & Michael: Arnold Schwarzenegger, Steven Yeun, Mel B. The View: Mario Batali, Michael Symon, Clinton Kelly, Mario Cantone. The Talk: Linda Gray, David Myers. Ellen DeGeneres: Sofia Vergara, Jessica Bassett (rerun). Wendy Williams: George Lopez, Nate Berkus.
Late Talk
David Letterman: Sage Kotsenburg, Kate Mara, Cole Swindell (rerun). Jimmy Fallon: Russell Crowe, Joan Rivers, the National. Jimmy Kimmel: Jason Bateman, Katie Lowes, John Legend. Seth Meyers: Jennifer Connelly, James Van Der Beek, Joe Mande. Craig Ferguson: Julia Stiles, Dave Itzkoff, Roddy Hart & th Lonesome Fire (reron). Carson Daly: Bear McCreary, Together Pangea, Air Review. Tavis Smiley: Shyima Hall. Jon Stewart: Nate Silver. Stephen Colbert: Darren Aronofsky. Arsenio Hall: Wayne Brady, Aisha Tyler, Colin Mochrie, Ryan Stiles, Lyoto Machida, Hot Chelle Rae. Conan O'Brien: The Cast of "The Walking Dead," White Denim (rerun). Chelsea Handler: Rick Ross, Chris Franjola, Sarah Tiana, Ian Karmel. Pete Holmes: Bo Burnham (rerun).