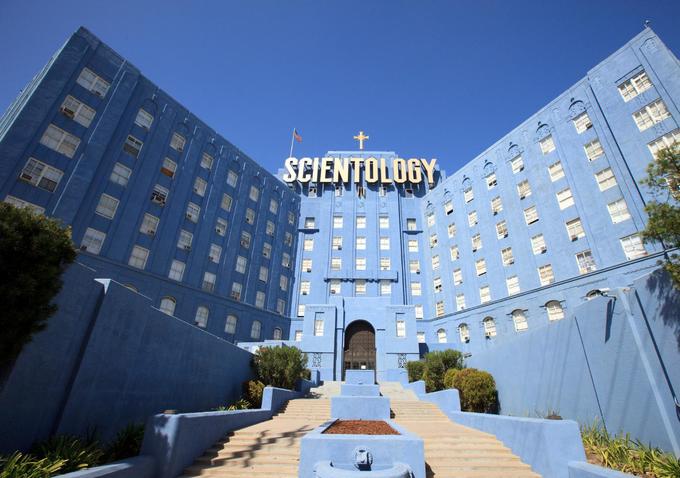 It's hard to believe that the big, paranoid, litigious cult started by L. Ron Hubbard will survive Alex Gibney's clear-eyed, eye-opening and damning documentary "Going Clear: Scientology and the Prison of Belief" (HBO, 8 p.m.). Based on the book by Lawrence Wright, the film lays out the far out sci-fi underpinnings of the belief, its insistence on deep confessions and junk science, its record keeping of such confessions (lest someone get out of line), and actual physical abuse and jailings.
The information doesn't come from frightened ex-members who hide their faces or alter their voices; it comes from a handful of former high ranking Scientologists who now frankly wonder what they were thinking (and are now followed by harassing current members with cameras).
A lot of time is used following the highest profile believers — John Travolta and Tom Cruise — with accusations so wild they might come from a tabloid headlines (his marriage to Nicole Kidman was sabotaged because she was less of a believer and her family really doubted it; they arranged to provide his new mistress). Either way, and you might not see either in the same light again.
The typically dour and dusty "Killing Jesus" (National Geographic, 8 p.m.), based on the Bill O'Reilly book, of all things, is the first of what will be three new such films this season — all inspired by the success of "The Bible" a couple of years back and "The Ten Commandments" a half century ago.
Does each one have to use the same eerie, vaguely Middle Eastern violin and wail? Do they all have to have virtually unknown cast with one or two names (here Kelsey Grammar's King Herod, who dies in the first few minutes, and Stephen Moyer, the onetime vampire who is now Pontius Pilate)?
Jesus and his followers, with their black bushy beards are hard to tell apart. And Haaz Sleiman, who plays Jesus, tends to swallow the most famous lines. Once more his persecution leads to a kind of torture porn, as it has in previous recent films on the subject. And there isn't even the payoff for Christians of depicting any resurrection in the three hour movie. Still, the movie, with its depictions of miracles and faith, doesn't seem to have much business being on National Geographic (other than the Fox company owning both it and Fox News).
Mostly, I kept thinking of the dichotomy of Bill O'Reilly and Jesus as historical figures and especially if the bloviator  had the ex-carpenter on his show how he'd sneer and dismiss him.
If rising from the dead doesn't happen in that movie (Easter, after all is next week), it does all the time on TV's most popular show. And tonight is the 90 minute finale for the fifth season of "The Walking Dead" (AMC, 9 p.m.).
The second "iHeart Radio Music Awards" (NBC, 8 p.m.) boasts Beyonce, the Black Keys, Jennifer Hudson, Meghan Trainor, John Legend, Luke Bryan, Ariana Grande, Usher, Jason DeRulo, Madona, Pharrell Williams, Jessie J, Rihanna with a tribute to Justin Timberlake, Jamie Foxx hosts, and will have to perform as well.
The next season for "Downton Abbey" will be its last, it was announced last week. But there is something of the notion of endless TV to the British made Sunday lineups with "Calling the Midwife" (PBS, 8 p.m.) back for its fourth season and "Mr. Selfridge," a story good for one episode tops, back for its third season on "Masterpiece Classic" (PBS, 9 p.m., check local listings).
After being teased by the network all week, Charlie Rose's interview with President Bashar al-Assad of Syria runs in full on "60 Minutes" (CBS, 7 p.m.).
Another hour of "The Last Man on Earth" (Fox, 9 p.m.) makes me think they're burning through this thing. Take it in while you can, then.
New to the Nick cartoon lineup is "Harvey Beaks" (Nickelodeon, 7:30 p.m., a polite bird tempted by his friends Fee and Foo.
frank grows concerned about Bianca's behavior on the second to last "Shameless" (Showtime, 9 p.m.) of the season.
On "Battle Creek" (CBS, 10 p.m.), Russ and Milt investigate when Guziewicz's house is burned down.
The partners of Florrick/Agos/Lockhart try to chart a new course for the firm on "The Good Wife" (CBS, 9 p.m.).
The second half of the elite eight battle to go to the Final Four is today with Michigan State vs. Louisville (CBS, 2 p.m.) in the east region final and Gonzaga vs. Duke (CBS, 4:30 p.m.) in the south region final.
In women's games, it's Florida State vs. South Carolina (ESPN, noon) in the Greensboro region final and Baylor vs. Notre Dame (ESPN, 8:30 p.m.) in the Oklahoma City region final.
The best known novel by Austrian writer Vicki Baum was turned into both "Grand Hotel" (TCM, 8 p.m.) and "Hotel Berlin" (TCM, 10 p.m.).
IBA action includes Oklahoma City at Phoenix (NBA, 9 p.m.). In hockey, it's San Jose at Piottsburgh (NBC Sports, 7:30 p.m.).
Spring baseball includes Mets vs. St. Louis (MLB, 1 p.m.) and Seattle vs. San Diego (MLB, 4 p.m.).
Sunday Talk
ABC: Former Gov. Martin O'Malley, Victoria Reggie Kennedy. CBS: Sens. Richard Burr, Barbara Mikulski and John McCain, Rep. Adam Schiff, former Sens. Chris Dodd and Olympia Snowe, former Gov. Mike Huckabee. NBC: Victoria Kennedy, former Rep. Patrick Kennedy. CNN: Rep. John Boehner, Sen. Ted Cruz. Fox News: Victoria Kennedy, Carly Fiorina.