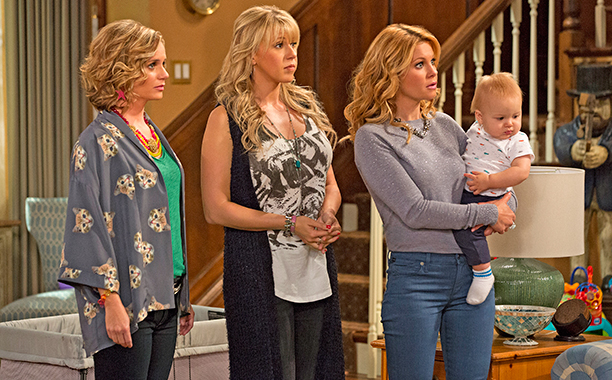 Nostalgia colors so much of what one consumed growing up, one has to consider whether any of it was really any good.
I can make a case that "Green Acres" and "Get Smart" still hold up. But "My Three Sons"? Maybe not.
For whatever reason, there is a great fondness for the 80s sitcom, "Full House," of which I didn't watch for a second. Still, it's the basis for references of this or that, or the careers of Bob Saget and what there was for Dave Colier. So after 192 episodes of the first run, which replay on Nickelodeon, here's a sequel from the original maker, of the three girls on the show who grow up and live in the same house, "Fuller House" (Netflix, streaming).
In it, Candace Cameron-Bure is all grown up, widowed and raising three boys. Her single sister, played by Jodie Sweetin, agrees to move in to help; and so does Andrea Barber, who plays the neighbor Kimmy Gibbler, who considered herself part of the family anyway. A divorcee, she's got her own teenage daughter she brings along.
To set this all up, the stars of the original — Saget, Colier, John Stamos and Lori Laughlin — reunite to hand off the household to the next generation.
And as satisfying all this may be to fans of the original, to everyone else it will seem nothing like a bad bad three-camera sitcom with no laughs — faithfully as bad as the original! Three-camera, live before an audience family sitcoms live today largely for audiences of Disney and Nickelodeon — largely low budget productions run by hacks from the original day who are in some way familiarizing youngsters with the rhythms of the old fashioned sitcom, day after day.
This may help "Fuller House" gain an audience, but it doesn't improve its quality any. If anything, the need to show in the occasional saucy reference adds to the ice factor.
Well, Stamos, an old Beach Boys fan, does get to sing Dennis Wilson's song "Forever" in the pilot, but that was about it for me.
And the stars from the original show — the Olsen twins — don't show up at all, cause for a jibe from the cast, rolling their eyes about their "fashion careers."
"it wasn't meant to be a dig," producer Jeff Franklin told reporters at the TV Critics Association winter press tour last month. "It was meant to be a playful wink. I tried. We all tried to persuade them to come and play. They decided not to at this time."
"Fuller House" of course is at odds with much of the other original programming on Netflix, dominated by "Orange is the New Black," "House of Cards" and the more recent "Master of None" and "Love."
But Netflix is hoping to expand its family programming and, according to Boyett "I think there's an appetite for family programming again."
The original show was canceled in part because reality shows were coming into vogue and three-camera comedies were expensive to produce by comparison. But since then, there's been "curiosity about what happened to these three young women" since the series ended.
"I have to say Nickelodeon is responsible to a great degree because, by putting us on four shows a night in primetime, we have built a whole new audience and a new generation of interest."
Who knows, they may eventually lure the Olsen twins back, too. "We're hopeful at some point in the future that they may change their minds and come back and reprise [the character of] Michelle," Boyett said. After all, he added, "We only need one of them."