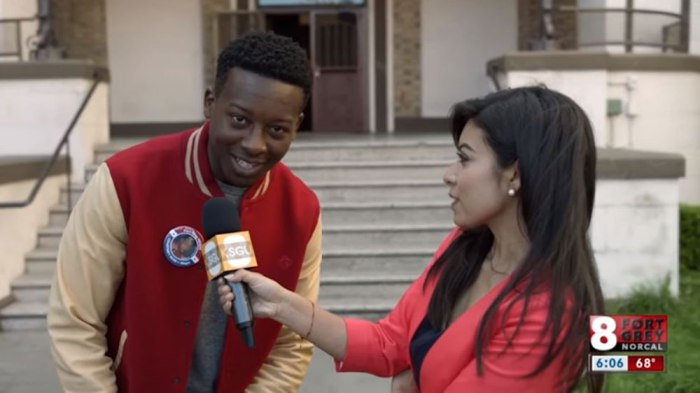 On the new comedy "The Mayor" (ABC, 9:30 p.m.), a brash young rapper (Brandon Michael Hall) runs for office to boost his music career, but ends up getting elected. Somehow the election of somebody who doesn't have the slightest experience doesn't seem so funny these days. And the tone of this rushed effort, which includes Lea Michele, David Spade and Yvette Nicole Brown, makes it seem a hybrid between the forced punchlines of network sitcoms and the black-centric jokes of much better shows like "Atlanta" and "Insecure," which work because they have space to breathe. This one more seems more concocted to be a companion to "Black-sh" (ABC, 9 p.m.), which also returns for its fourth season tonight.
Also new tonight is "Kevin (Probably) Saves the World" (ABC, 10 p.m.) in which Jason Ritter stars as a depressed guy who can't even manage a suicide attempt. Then he meets a guardian angel (Kimberly Hebert Gregory) who says there's more to do with his life, though it's not made clear what. This is done with a lightness that doesn't quite take hold. The other problem is that networks like to step away from actual God-talk and religion as much as possible, so there's a kind of celestial vagueness over the proceedings in which, like "The Good Place," there's just supposed to be a universal ethical understanding of good and bad. it comes off as half-baked theology and television drama.
I have to say I was a little let down by the return of "Curb Your Enthusiasm" Sunday, which seemed oddly out of date in its talk of fatwas and how lesbians dress. Its star Larry David has been on a number of shows lately in conjunction with the return and one of the most unexpected is in the fourth season premiere of "Finding Your Roots with Henry Louis Gates Jr." (PBS, 8 p.m., check local listings). He amiably agrees to see what Gates' team has found out about his past, traced to a small Jewish down in Poland. On the same episode is the similarly bald Brooklyn Jew that David imitated on "Saturday Night Live" a year ago, Bernie Sanders. The senator is a little more circumspect and thoughtful about the family history that turned up and Gates throughout sits like he knows everything, awaiting the last minute revelation that you might have already heard about.
The ninth and final season of "The Middle" (ABC, 8 p.m.) begins, with Axl returning from Europe.
Jessica plays "Wheel of Fortune" on the fourth season premiere of "Fresh Off The Boat" (ABC, 8:30 p.m.).
The second half of the season of "Queen Sugar" (OWN, 10 p.m.) begins.
One network acts quickly on the sad news with a couple of specials, "Tom Petty – Live from Gatorville" (AXS TV, 5 p.m.).
Host Ben Makuch has much to investigate in his hacking and surveillance series "Cyberwar" (Viceland, 10 p.m.), which begins its second season.
A new comedy special debuts, "Rodney Carrington: Here Comes the Truth" (Netflix, streaming.
Blind auditions continue on "The Voice" (NBC, 8 p.m.).
Michelle Hurd, formerly of "Blindspot," joins the cast of "Lethal Weapon" (Fox, 8 p.m.), where Murtaugh's son goes off to college.
The Pearson family visits Kevin in Los Angeles for a "Manny" taping on "This is Us" (NBC, 9 p.m.).
Hey, let's do this all over again: "The Vietnam War" (PBS, 9 p.m.) reruns every Tuesday, starting with part one.
The body of a person who disappeared a year ago is found on "NCIS" (CBS, 8 p.m.).
"Bull" (CBS, 9 p.m.) defends a man who helped his terminally ill girlfriend end her life.
A Russian operative disappears on "NCIS: New Orleans" (CBS, 10 p.m.).
Mickey gets a new friend on "The Mick" (Fox, 9 p.m.).
They're all still in jail on "Brooklyn Nine-Nine" (Fox, 9:30 p.m.).
Erik makes a confession to his psychologist on "Law & Order: True Crime – The Menendez Murders" (NBC, 10 p.m.).
"American Horror Story: Cult" (FX, 10 p.m.) should survey the damage in Puerto Rico and visit Las Vegas.
"Chrisley Knows Best" (USA, 10 p.m.) has a bowling tournament.
The new "Ink Master: Angels" (Spike, 10 p.m.) has all female competitors.
Art inspired aliens is the task on "Face Off; Game Face" (Syfy, 9 p.m.).
"Chopped" (Food, 10 p.m.) gets spooky on a Halloween-themed episode.
Turner Classic Movies spends Tuesday nights this month unleashing all of the classic horror movies and a lot of them come tonight with "Frankenstein" (8 p.m.), "Bride of Frankenstein" (9:30 p.m.), "The Mummy" (11 p.m.), "The Wolf Man" (12:30 a.m.), "Island of Lost Souls" (2 a.m.), "The Black Cat" (3:30 a.m.) and "The Invisible Man" (4:45 a.m.).
The director's cut of "Woodstock" (AXS, 10 p.m.) gets another viewing, after being on TCM last week.
Baseball's postseason begins with the American League Wild Card game of Minnesota at Yankees (ESPN, 8 p.m.).
Preseason NBA action includes Houston vs. Oklahoma City (NBA, 8 p.m.), Phoenix at Portland (NBA, 10:30 p.m.) and Toronto vs. Clippers (NBA, 1 a.m.).
Daytime Talk
Kelly Ripa and Ryan Seacrest: Sarah Silverman, Terry Crews. The View: Russell Brand. The Talk: Nicholas L. Ashe, Omar J. Dorsey, Timon Kyle Durrett, Kofi Scribe, Dondre T. Whitfield, Kevin Frazier. Harry Connick: Lisa Ling, Jenni Pulos. Steve Harvey: Terry Bradshaw, Brian McKnight. Ellen DeGeneres: Howie Mandel, Rita Ora. Wendy Williams: Quvenzhane Wallis. The Real: Miss Nikki Baby.
Late Talk
Stephen Colbert: Michael Weatherly, Natasha Leggier, Paul Weller. Jimmy Kimmel: Ryan Gosling, Logan Paul, Welshly Arms. Jimmy Fallon: Sarah Silverman, K.J. Apa, Lili Reinhart, Camilla Mendes, Cole Sprosse, Madelaine Patsch, Miley Cyrus. Seth Meyers: Kyra Sedgwick, Cecily Strong, Salman Rushdie, Gene Hogan. James Corden: Julia Roberts, Ben Schwartz, Shania Twain. Carson Daly: Jay Pharaoh, Devin Devine, Carly Chaikin. Trevor Noah: David Muir. Jordan Klepper: Richard Painter. Conan O'Brien: Minnie Driver, Matt Bomer, James Veith.