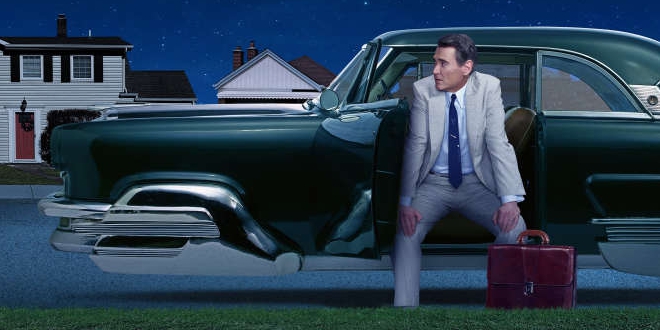 The stylish new series "Hello Tomorrow!" (Apple TV+, streaming) stars Billy Crudup as the leader of a group of salesmen offering timeshares on the moon. Hank Azaria, Alison Pill and Haneefah Wood co-star, but what may make the half-hour really worth watching is the production design: a kind of retro 1950s affixed with futuristic devices, like 50s cars that float like hovercraft down the street. 
John Lithgow, Julianne Moore and Sebastian Stan star in the new heist film "Sharper" (Apple TV+, streaming). 
Jamie Lee Curtis wins a career achievement award at The 21st Annual Movies for Grownups Awards (PBS, 9 p.m., check local listings), taped last month in Los Angeles, where an array of films and TV shows will be up for awards at the event. Alan Cumming hosts the annual event thrown by  AARP the Magazine (where my work sometimes appears). 
Like Bruce Springsteen's album "Nebraska," the new documentary series "The 12th Victim" (Showtime, 8 p.m.) focuses on serial killer Charles Starkweather's girlfriend, Caril Ann Fugate. 
The new documentary series "Make or Break" (Apple TV+, streaming) follows top surfers in the wild. 
Another documentary, "J-Hope in the Box" (Disney+, streaming), follows the road to a solo album from a member of K-pop group BTS.
The third and final season of the rebooted "Animaniacs" (Hulu, streaming) arrives.
"Josh Johnson: Up Here Killing Myself" (Peacock, streaming) is a standup comedy special from "The Daily Show" correspondent.