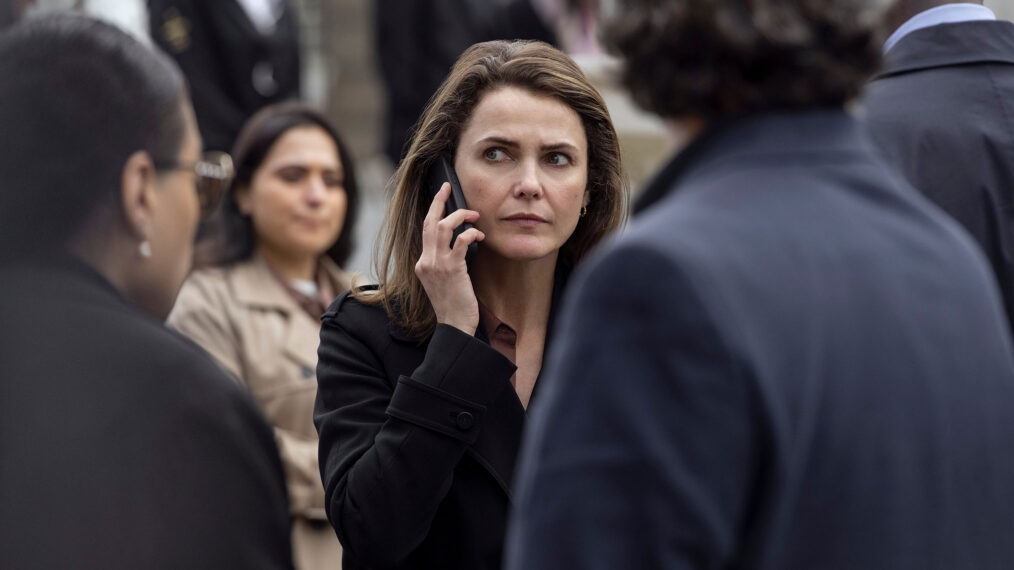 Keri Russell brings a Samantha Power vibe to her role of "The Diplomat" (Netflix, streaming). That is to say: very competent but slightly frazzled. The new series from "West Wing" vet Debora Cahn about a newly appointed UK ambassador who is being groomed as next VP is smart, but also the wonkiest thing on television.
Her marriage to fellow ambassador (Rufus Sewell) may be on the rocks, but most of the show is devoted to urgent international intrigue that only strains credulity a few times. Still, its ambition is laudable and fills a slot that Netflix hasn't offered since "Borgen."
Another strong woman to watch is the one fighting "Mrs. Davis" (Peacock, streaming), the name given to the Artificial Intelligence power that's otherwise taken over the world. The one person on earth who wants nothing to do with the machine is a sassy nun named Simone, which of course makes her more pursued. Betty Gilpin brings an easy likability to her rebellious nature, but the show is given a fresh, frantic and often funny energy by creators Damon Lindelof and Tara Hernandez that has nearly every scene going over the top. You'll get that sense in the head-lopping opening from the Middle Ages. It echoes a later head-lopping in the premiere episode but that one is staged by Reno magicians. Strap in for this one.
The spin-off "Star Trek: Picard" (Paramount+, streaming) ends its run after three seasons and most of the cast of "Star Trek: The Next Generation" reunited.
Pitfall, Becky G, Lil Jon, Ruben Blades and Prince Royce are among the 30 performers on The Latin American Music Awards (Univision, 8 p.m.), live from the MGM Grand Garden Arena in Las Vegas. Natti Natasha, Clarissa Molina, Galilea Montijo and Julian Gil host. Bad Bunny leads nominations with 11. Daddy Yankee and Becky G follow with nine each.