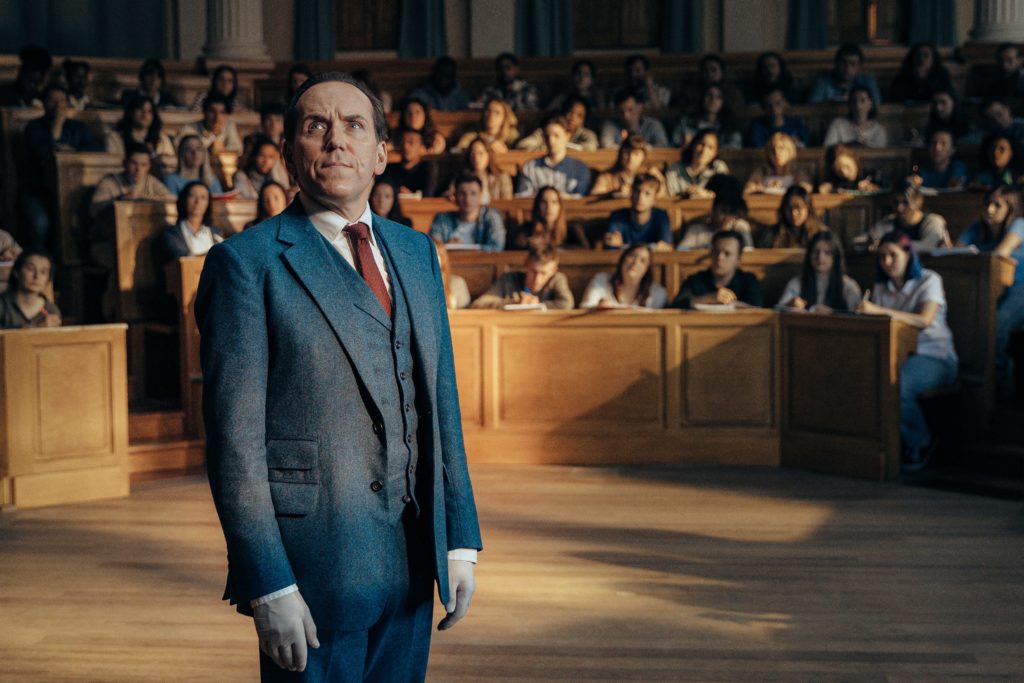 More than just Mr. T, "Professor T" (PBS, 8 p.m., check local listings) is a criminologist who lends his hand to local cases, returns for a second session. It helps kick off a night of new seasons for the other imported detective shows — the fifth season of "Unforgotten" (PBS, 9 p.m., check local listings), a cold cases drama starring Sahneev Bhaskar, who joined by a new partner portrayed by Sinead Keenan; and the third season of "Van Der Valk" (PBS, 10 p.m., check local listings), about a police commissioner in Amsterdam.
A Japanese reality show has a twist — someone deliberately sabotaging things. Suitors must ask: "Is She the Wolf?" (Netflix, streaming). Which makes it sounds like a nature series. Another show that is not a nature series, "Special Ops: Lioness" (Paramount+, streaming), the surprisingly popular spy thriller with Zoe Saldana, Morgan Freeman and Nicole Kidman, ends its first season.
Before NFL begins next week, here's a rare Sunday of college football with Northwestern at Rutgers (CBS, noon), Jackson State vs. Florida A&M (ESPN, 3 p.m.), Oregon State at San Jose State (CBS, 3:30 p.m.), Morehouse vs. Virginia Union (NFL, 4 p.m.), Tuskegee vs. Fort Valley State (ESPNU, 7 p.m.) and, in primetime, LSU at Florida State (ABC, 7:30 p.m.). 
Jesus is off to Samaria on the season finale of "The Chosen" (CW, 8 p.m.).
"Renovation Resort Showdown" (HGTV, 9 p.m.) ends its season with all the cabins finished.
Chuck embarks on a case with ties to Prince on "Billions" (Showtime, 8 p.m.).
"Dark Winds" (AMC, 9 p.m.) ends its season with Manuelito readying for a change.
Magic and his coach clash on "Winning Time: The Rise of the Lakers Dynasty" (HBO, 9 p.m.).
"The Real Housewives of New York City" (Bravo, 9 p.m.) get ready for the holidays.
A new head of household is to be named on "Big Brother" (CBS, 8 p.m.).
"Yellowstone Wardens" (Animal Planet, 9 p.m.) go after illegal road hunters.
The reunion episodes continue on "The Real Housewives of Atlanta" (Bravo, 8 p.m.).
"Naked and Afraid: Castaways" (Discovery, 8 p.m.) struggle to get to day 21.
The fires make it hard to "Survive the Raft" (Discovery, 9 p.m.).
"Worst Cooks in America" (Food, 8 p.m.) learn to taste desserts.
Questions are raised about Rosemary's past on "When Calls the Heart" (Hallmark, 9 p.m.).
"Sister Wives" (TLC, 10 p.m.) draw the line on Kody.
Crew members mark a major milestone on "The Chi" (Showtime, 9 p.m.).
Turner Classic Movies has a couple of films featuring the work of cinematography Stanley Cortez with "The Magnificent Ambersons" (8 p.m.) and "Since You Went Away" (10 p.m.). Later comes two from Volker Schlöndorff, "Baal" (2:30 a.m.) and "The Lost Honor of Katharina Blum" (4:15 a.m.).
Baseball includes Philadelphia at Milwaukee (Peacock, 1:05 p.m.), Seattle at Mets (MLB, 1:30 p.m.), Atlanta at Dodgers (MLB, 4:30 p.m.) and Yankees at Houston (ESPN, 7 p.m.). 
WNBA action has New York at Chicago (ESPN2, 3 p.m.) and Phoenix at Minnesota (NBA, 7 p.m.).
Motor sports include the Italian Gand Prix (ESPN, 9 a.m.), the Grand Prix of Portland (NBC, 3:30 p.m.), the U.S. Nationals (Fox, 4 p.m.) and the Southern 500 (USA, 6 p.m.).
The U.S. Open (ESPN, 11 a.m.; ABC, 3 p.m.; ESPN2, 7 p.m.) reaches the round of 16. 
Basketball has U.S. vs. Lithuania (ESPN2, 8:30 a.m.) in the FIBA World Cup.
Canadian football has Winnipeg at Saskatchewan (CBS Sports, 7 p.m.).
Women's college volleyball includes Minnesota at Florida (ESPNU, noon) and Stanford at Texas (ESPN2, 12:30 p.m.).
Sunday Talk
ABC: Vivek Ramaswamy, Sen. Tim Kaine. CBS: Commerce Secretary Gina Raimondo, Nikki Haley, Sen. Bernie Sanders, former Maryland Gov. Larry Hogan. NBC: Raimondo, New Hampshire Gov. Chris Sununu, author Franklin Foer. CNN: Raimondo, Sen. Mike Rounds. Fox: Former Vice President Mike Pence, chair of the Council of Economic Advisers Jared Bernstein.