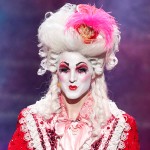 And we're just not talking Glenn Beck here. We're talking Prince Poppycock, a full camp operatic singer who dresses like a fop, who has ascended to the "America's Got Talent" Top 10, causing judge Sharon Osbourne to declare "You are the male Lady Gaga!"
Then again, she is married to Ozzie Osbourne.
Sure, it doesn't take much to excite her and the two other judges, professionally sneering Brit soon to replace Larry King, Piers Morgan; and the comedian turned game show host Howie Mandel.
Third rate bicycle acts, a dance troupe that would have never made "America's Greatest Dance Crew," a sister singing act that may not have won a community talent show – to mention three other entries into the Top 10 this year – were all excessively hailed as something near-monumental by the judges.
But Poppycock may be on to something. Besides transcending his powdered wigs and makeup persona to win over middle America on the highest rated show of the summer, he fully immersed into the show's feigned patriotism by fully appearing as a glittered Uncle Samantha in his all-important Top 10 performance.

Descending from the rafters in what looked to be a hot air balloon basket, festooned, like him, in red, white and blue streamers and stars, he was already mid "Anthem" – "And the rockets red blare" so that by the time he reached the stage and was helped from the gondola and his own star-fettered cape, he was already intoning the Declaration of Independence – "We hold these truths to be self-evident!" as a bigger point was made on the backdrop behind him – an array of political heroes unlike any others presented on primetime network TV, let alone its No. 1 show.
Dig it: Abraham Lincoln and his contemporary Susan B. Anthony, side by side, and then two other heroes from the 20th century: Harvey Milk next to Rosa Parks.
"All men are created equal," he said, while perhaps referring tongue-in-cheek to himself by adding "of course some of us are more equal than others" as he revealed his red white and blue suit and shorts outfit to sing the most dandified version of "I'm a Yankee Doodle Dandy" that George M. Cohen ever imagined.
Then to John Philip Sousa's "The Stars and Stripes Forever" with the Charles Burr lyrics, "three cheers for the red white and blue."
Amid all this, some Rockettes style kicks with his assembled half dozen dancers, all in Revolutionary War costumes, then two glittery American flags dancing out with comely legs and a big U.S. Capitol building on two legs like some runaway "Ace of Cakes" creation.
You have to watch again to catch all the backdrops: Prince Poppycock as Lady Liberty, Prince Poppycock rendered on Mount Rushmore, and on an altered piece of legal tender, "In Poppycock we Trust."
It's a dizzying, dandified takeover of American icons in a manner so entertaining not every one of the underlying Commedia dell'arte commentaries is taken in.
Who is Prince Poppycock, this most insurrectionist, made up character on network TV since Pee-Wee Herman? It's a Los Angeles performance artist called John Quale, who is serious about his vocal career, if not this silly summer show.
But with the crowd on its feet and a second-to-last perch on the two hour performance show Tuesday (second only to the 10-year-old opera singer who closed), he's at least a cinch for the Top 4, right?
But then what would he do to top it all in next week's finale?