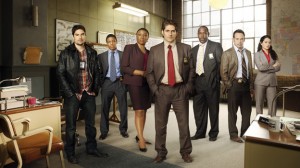 It would have been the trend of the fall TV season: The influence of docu-drama reality show techniques on actual dramas; the blurring of the two by using nonfiction storytelling tools into fiction, all leading to the notion that for Hollywood writers and actors, if you can't fight em, imitate em.
The fake documentary has already been a workable format for comedies like "The Office" and "Modern Family," with characters talking to the camera as if being interviewed. But it would have been broadened this fall with both "My Generation," supposedly from a documentary made of a high school class 10 years after reunion, and especially "Detroit 1-8-7," a cop show framed as if it were shot by a ride-along documentary crew.
That all was changed before that show premieres tonight on ABC, because of a tragedy in Detroit involving another ride-along camera crew that was there when a child was killed in a police raid.
It happened about a week before the crews came to shoot "Detroit 1-8-7" (a shows whose police code in the title means homicide).
"That was pretty real and pretty scary stuff. And the city was very concerned about that," said producer Jason Richman, "and they patently said that no documentary film crews could follow these police around. So it oddly became the one city in America where a documentary film crew could not follow police around."
Said another executive producer David Zabel, "The credibility of the premise at that point was undermined, directly undermined."
"We wanted to be as realistic as possible," Richman says, "and we were sensitive to their concerns."
Now the new show starring Michael Imperioli, James McDaniel and D.J. Cotrona retains the shaky camera technique favored by TV drama cinematographers for years to heighten reality, but no reality conceits like talking to an unseen interviewer.
And maybe the show, which has risen to become one of the most anticipated network offerings of the fall, maybe didn't need it, Zabel says.
"In the long run, we were actually going to feel a little hampered by that and hemmed in," Zabel says of the format. "And it certainly was going to limit the ability that we had to sort of send characters into different directions and explore different character arcs and emotional lives and what the actors were going to be able to do. So it freed us up as storytellers, writers, directors, and actors to explore a lot more than, I think, in the long run we would have been able to do had we stuck with the conceit of the overt documentary."
Richman said only about 15 percent of the pilot had to be reshot "to get that moment out where somebody looks at the camera and throws one line that way." Though one scene where an apprehended suspect lashes out at the camera remained in.
Richman says he was drawn to make the drama in Detroit after a visit there a couple of years ago. "I just thought it was a really compelling
 place," he says. "It's a story, that city. It's a real quintessential American city with a very rich history. It's a city in transition. I think it sort of represents where many cities in America could be going, and it's a city that's trying to find itself on the rebound. And it's an underdog story, and I just thought it was a great story. "
The actors were won over as well.
"I was kind of one that was the
'rah-rah, team' to want to shoot it in Detroit
because, you know, that's the action is," says McDaniel, whose character is also a Motor City booster.
McDaniel, who was also once part of "NYPD Blue," said he received so much sympathy from friends whom he told he was moving to Detroit, "I started to realize that so many of those people had never been to Detroit.
"They'd only read, you know, about the murder rate in Detroit and all the negative parts of Detroit. But once my wife and I got there, within about, I'd say, about a week, we'd actually fallen in love with the city.
"There's so much to see. The people are wonderful in a very homespun, kind of natural way. The architecture is absolutely amazing. I mean, this city was once called "The Paris of the North," and it's reflected when you drive around it. You can still see how extraordinary the city actually is. It's the finest architecture I think I've ever seen in this country. So, yeah, the city was a big surprise, and so far we love it."
"Detroit 1-8-7" premieres tonight on ABC at 10 p.m.