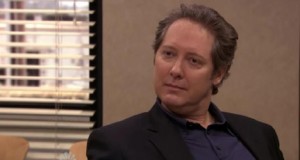 Of all the returning shows tonight, in the opening week of the new fall season, most of the speculation is on "The Office" (NBC, 9 p.m.). Steve Carell is gone; James Spader is entering the picture, not quite as a replacement, but as an upper level company operative who will presumably replace Michael Scott with someone from the cast. I have enough faith in the producers to keep this thing going strong despite the changes.
"Parks and Recreation" (NBC, 8:30 p.m.), which didn't premiere last year until midseason, this time gets the fall roll-out (with "30 Rock" waiting until January). And it continues on the strengths of last season, with Amy Poehler's Leslie Knope being approached to run for higher office.
The other NBC Thursdays comedy, "Community" (NBC, 9 p.m.) is also back as well, with John Goodman added to the cast. and the one new sitcom entry of the night is "Whitney" (NBC, 9;30 p.m.), see above with the other new shows.
Two episodes kick off the season for "The Big Bang Theory" (CBS, 8 and 8:30 p.m).
"Grey's Anatomy" (ABC, 9 p.m., tonight) takes two hours for its season premiere, which involves Meredith's firing and a giant sinkhole.
With Simon Baker in jail pleading his case that he really shot Red John, "The Mentalist" (CBS, 10 p.m.) has some things to clear up from last season's cliffhanger as well. But it only takes an hour.
Another week, another Republican Presidential Debate (Fox News, 9 p.m.), this one from the Orange County Convention Center in California and Brett Baier moderating.
On "The Vampire Diaries" (The CW, 8 p.m.), werewolves come in handy. But Cassie is still trying to shrug off the witchcraft foisted upon her in "The Secret Circle" (The CW, 9 p.m.).
Snooki's boyfriend finally visits on "Jersey Shore" (MTV, 10 p.m.).
The monthlong salute to Merchant-Ivory films on Turner Classic Movies continues with "The Ballad of the Sad Café" (TCM, 8 p.m.), "The Deceivers" (10 p.m.) and "The Perfect Murder" (midnight).
Daytime Talk
Regis and Kelly: Taylor Lautner, Celine Dion, Minka Kelly. The View: Seth Myers, Clinton Kelly, Dyan Cannon, Ron Artest. The Talk: Billy Baldwin, Chynna Phillips, Jermaine Jackson, Molly Shannon & Kris Jenner. Ellen DeGeneres: Kelly Clarkson. Wendy Williams: Jane Lynch, John Singleton.
Late Talk
David Letterman: Sgt. Dakota Meyer, Sofia Vergara, Chris Cornell. Jay Leno: Jamie Foxx, Michelle Monaghan, Bush. Jimmy Kimmel: Ellen Pompeo, Sammi Giancola & Ronnie Magro, Daryl Hall. Jimmy Fallon: Julianna Margulies, Wyann Cenac, Telekinesis. Craig Ferguson: Chris Hardwick, Billy Gardell. Tavis Smiley: Thomas Friedman, Calvin Trillin. Carson Daly: Doug Elin, Kreayshawn, Atmosphere. Jon Stewart: Jennifer Granholm. Stephen Colbert: Tavis Smiley. Conan O'Brien: Jonah Hill, John Noble. Chelsea Handler: Rachel Bilson, Bobby Lee, Arden Myrin, Dov Davidoff.