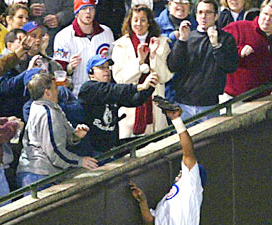 We're nearing the high emotion of baseball's postseason, where World Series dreams are so close. So when things go wrong, fans can be unforgiving. That's how Cubs fan were when a fan seemed to interfere with a fly ball, allowing the Mariners to win game six of a pennant race from the long-suffering Chicago Cubs.
The name Steve Bartman is still a notorious one in baseball, though almost nothing is known about him. Other than issuing a heartfelt apology, he's declined interviews ever since that fateful game and disappeared.
But how fair was it to scapegoat someone for doing what any fan would instinctively do watching a fly ball come to the stands (and not seeing the fielder's attempt to catch it). The reaction of the Cubs fans, who began jeering, throwing beer and epithets, was ugly. Was he really to blame for the turning point of the game, when the Marlins scored eight runs and Alex Gonzales muffed an easy double play?
It's a lot like when Bill Buckner was blamed for losing a game six with the Mets in 1986; fans acted like the loss as entirely his fault; nobody mentions Bob Stanley's wild pitch that preceded it and tied the score..
Alex Gibney's thoughtful and thorough look at the Bartman affair in "Catching Hell" (ESPN, 8 p.m.) also includes quite a bit on Buckner and how it wasn't until the Sox finally won a pair of Series that he was fully forgiven. Bartman's only out, it seems, will be for the Cubs to win. That won't be happening this year.
Bartman is never interviewed though several people seated in his immediate vicinity that game are; and Moises Alou, whose potential catch was thwarted, is tracked down in the Dominican Republican.
"Catching Hell" is the first in a series of Tuesday night documentaries on ESPN, a follow up of the laudable "30 for 30" series of sports documentaries that will now continue well past the anniversary designation.