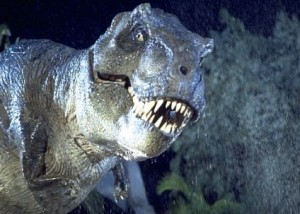 To escape a pollution-soaked future, a family decides to go back in time to save themselves and the planet in the much-ballyhooed and long-awaited new "Terra Nova" (Fox, 8 p.m.).
Their first task, though, is to adjust to the good and bad dinosaurs all around them. The CGI is the big draw in the two hour premiere but to get to those scenes you have to wade through some awful ones involving family dynamics of the daughter dating and a son on the outs with dad.
It just about sours everything else that happens on the show, which is kind of a surprise since it's got Steven Spielberg's name on it.  But a lackluster cast and a wan subplot about bad guys on the island doesn't provide much hope for the high priced drama.
Still, it's better than "Hart of Dixie" (The CW, 9 p.m.), a new series that can't get past its absurd casting: Rachel Bilson, with the same juvenile approach she used on "The O.C." pretending to be a brilliant surgeon, forced to go to small town South (ew! You can almost hear her say). There he meets all kinds of handsome dudes and their catty Southern belle fiancés for a cliché convention. Really ridiculous.
It's accompanied by the season return of "Gossip Girl" (The CW, 8 pm.), which may have meant something once. But by now, as a character on "2 Broke Girls" (CBS, 8:30 p.m.) said  about Paris Hilton, the cast "is like 100" years old and Serena is working in Hollywood. Elizabeth Hurley guest stars in the premiere as someone who pursues Nate.
Also returning tonight for its second season premiere, with one of its stars, Melissa McCarthy, having snared an Emmy for season one, "Mike & Molly" (CBS, 9:30 p.m.).
The stars aren't such great dancers this season on "Dancing with the Stars" (ABC, 8 p.m.). Ron Artest was first to go, but it could have been any of a handful. Everyone had more than a month to learn the first dances last week; this week it was just a matter of days to learn the jive or quickstep.
There are sure to be some pointed questions when "The President Answers Black America" (BET, 7:30 p.m.; Centric, 8 p.m.) from the White House with Emmitt Miller.
Can "Two and a Half Men" (CBS, 9 p.m.) possibly continue its ratings bonanza that came with the addition of Ashton Kutcher last week? Judy Greer joins the cast as Kutcher's ex.
Season finales come for both "Weeds" (Showtime, 10 p.m.) and "The Big C" (Showtime, 10:30 p.m.) in which Cathy enters the New Year's marathon. Elsewhere on cable, a first season finale comes for "Alphas" (Syfy, 10 p.m.).
Buddy Valastro fires up the oven for a new season of "Cake Boss" (TLC, 10 p.m.).
Monday Night Football (ESPN, 8:30 p.m.) offers Washington at Dallas.
"All My Children" ended Friday after 41 years, only to be replaced by a new talk show about food called "The Chew" (ABC, 1 p.m.). Mario Batali is among the cast, and many stars artificially drop in to visit.
For the first ever hour-long version of "The Colbert Report" (Comedy Central, 11:30 p.m.), the band Radiohead performs and talks.
It's all about China on Turner Classic Movies with "The Painted Veil" (8 p.m.), "China Sky" (9:30 p.m.), "The Inn of the Sixth Happiness" (11 p.m.), "Shanghai Express" (2 a.m.),"China Doll" (3:30 a.m.) and "West of Shanghai" (5:15 a.m.).
Daytime Talk
Regis and Kelly: Melissa McCarthy, Cloris Leachman, Blake Shelton. The View: Elisha Cuthbert, Gloria Estefan. The Talk: Billy Gardell, Jacob Young, Kris Jenner & Sheryl Underwood. Ellen DeGeneres: Wanda Sykes, Julianne Hough, Kenny Wormald, Joe Jonas. Wendy Williams: Florence Henderson, Courtney & Bob Novogratz..
Late Talk
David Letterman: Seth Rogen, Poppy Montgomery, Fleet Foxes. Jay Leno: Ryan gosling, Pauley Perrette, Arctic Monkeys. Jimmy Kimmel: Dana Delany, Erin Andrews, Kelly Rowland. Jimmy Fallon: Andy Samberg, Elmo, Nick Mason, the Shins. Craig Ferguson: Jonah Hill, Chris Young. Tavis Smiley: Chris Cornell. Carson Daly: David Guetta, the Decemberists (rerun). Jon Stewart: Rep. Ron Paul. Stephen Colbert: Radiohead. Conan O'Brien: Taylor Lautner, Kevin Hart, Neal Brennan. Chelsea Handler: Sarah Michelle Gellar, Jo Koy, Whitney Cummings, Ben Gleib.