One of the enduring images of clean, 20th century modernity is the Eames Chair, built out of a long design process by Charles and Ray Eames, a husband and wife creative team working in a big studio in Venice, Calif.
The original design, failed as it was came from Charles' work with Eero Saarinen. It took a while to perfect its elegant curves out of molded plywood.
But their influence went beyond those chairs (which still claim a pretty penny on the Herman Miller website) and into other realms of design including some pretty distinctive filmmaking. The two brought a lot of talent into their union; he was trained as an architect; she was a painter and sculptor. Thorughout their sometimes troubled marriage, there was a question of giving credit to both (or to designers from their shop). Most thought the Eames were brothers because Ray was a more common name for a man.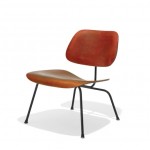 The film "Charles & Ray Eames: The Architect and the Painter" making its debut tonight on "American Masters" (PBS, 10 p.m., check local listings), shows a wealth of footage of their vibrant studio and its work as well as commentary from former designers who worked for them, Charles' daughter Lucia, his grandson Eames Demetrios (a designer in his own right), director Paul Schrader, TED founder Richard Saul Wurman and architect Revin Roche.