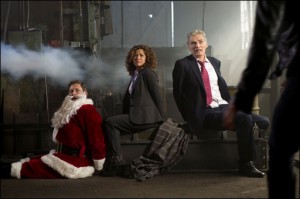 The latest Yuletide movie fits into the Tuesday night series of original detective flicks on TNT. "Deck the Halls" (TNT, 9 pm.) stars Scottie Thompson as a detective looking into her dad's kidnapping with help from another detective played by Kathy Najimy.
It should not be confused with the 2006 movie with Matthew Broderick and Danny DeVito, "Deck the Halls" (FX, 8 p.m.) which, oddly, is also showing tonight.
It's among a lot of replayed holiday movies tonight – "Annie Claus is Coming to Town" (Hallmark, 8 p.m.), "Comfort and Joy" (Lifetime Movie Network, 8 p.m.), "A Christmas Carol" (AMC, 8 and 10 :30 p.m.), "The Polar Express" (ABC Family, 9 p.m.), "Santa Jr." (Hallmark, 10 p.m.), "Christmas with the Kranks" (FX, 10 p.m.) and "Thomas Kinkade's Christmas Cottage" (Lifetime Movie Network, 10 p.m.).
More unexpected Christmas movies from the past come from Turner Classic Movies including "Good Sam" (TCM, 8 p.m.), "Holiday Affair" (TCM, 11 p.m.), "Bachelor Mother" (TCM, 12:30 a.m.), "Bundle of Joy" (TCM, 2 a.m.) and "In the Good Old Summertime" (TCM, 3:45 a.m.).
The only new episode of any network show is the weeklong game show "Who's Still Standing?" (NBC, 8 p.m.).
Even the two hour compendium of holiday sketches from "Saturday Night Live" is a rerun. "SNL Presents: A Very Gilly Christmas" (NBC, 9 p.m.) is hosted by a character that hasn't been on the show for a long time. Expect the usual suspects, from Dan Aykroyd's unscrupulous toymaker Irwin Mainway to Alec Baldwin's baker Pete Schweddy.
In another holiday special, direct from Northfield, Minn., it's "Christmas at St. Olaf" (PBS, 9 p.m., check local listings).
There's a new standup special "Kathy Griffin: Tired Hooker" (Bravo, 10 p.m.) which follows an old one, "Kathy Griffin: 50 & Not Pregnant" (Bravo, 9 p.m.).
In the new reality competition "Best in the Business" (Discovery, 8 p.m.) workers in a variety of fields, from pizza maker to valet, garbage man to grocery bagger – compete to see who is best in each field.
It may be titled "Tori & Dean: Home Sweet Hollywood" (Oxygen, 10 pm.) but the twosome travel to New York tonight.
Foodie Lidia Bastianich shares some holiday recipes on the special "Lidia Celebrates America" (PBS, 8 p.m., check local listings).
Tonight's bowl game: the St. Petersburg Bowl (ESPN, 8 p.m.) with Florida International vs. Marshall.
Men's college basketball includes Butler at Gonzaga (ESPN2, 9 p.m.); in women's basketball, it's Tennessee at Stanford (Fox Sports, 10 p.m.).
NHL action includes Chicago at Pittsburgh (Versus, 7:30 p.m.).
And what were the best plays of the year, scientifically speaking? They're on "Sports Science: Best Plays of the Year" (ESPN2, 11:30 p.m.).
Daytime Talk
Kelly Ripa: Scarlett Johansson, the Radio city Rockettes, Joaquin Consuelos, Voca People, Mark Consuelos. The View: Fred Armisen. The Talk: Jeremy Sisto, Carole King. Ellen DeGeneres: Luke Bryan, Melissa McCarthy, Armie Hammer (rerun). Wendy Williams: Tyra Banks, Sean Paul.
Late Talk
David Letterman: Harry Connick Jr., Scott Van Pelt, Mariachi El Bronx. Jay Leno: Charles Barkley, berenice Bejo, Amber Riley. Jimmy Kimmel: Simon Cowell, Paula Abdul, Nicole Scherzinger, L.A. Reid, Anna Faris, the Kooks (rerun). Jimmy Fallon: Tom Cruise, Joshua Topolsky, Rufus Wainwright. Craig Ferguson: Robin Wright, Parker Young. Tavis Smiley: Donna Britt, Merle Haggard. Carson Daly: David Wain, Billy Eichner, the Joy Formidable. Jon Stewart: Ralph Fiennes (rerun). Stephen Colbert: Jack Abramoff (rerun). Conan O'Brien: Patton Oswalt, Kevin Lee, Joe Mande. Chelsea Handler: Patton Oswalt, Jen Kirkman, Joe Matarese, Josh Wolf.