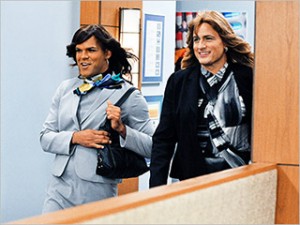 It may be a golden age for TV comedy, but that doesn't mean that some of them are terrible. The worst new one this year debuts tonight.
"Work It" (ABC, 8:30 p.m.) works from the shaky premise that in order to get jobs two lugs have to dress as women. Ben Koldyke and Amaury Nolasco won't fool anybody in dresses. And cross dressing ceased to be funny after Milton Berle. There isn't much of an update of "Bosom Buddies," which wasn't exactly high comedy either.
But it's intended to go along with the similar dim gender humor as "Last Man Standing" (ABC, 8 p.m.).
The 2012 Election Campaign gets in full swing today with the unusual ritual of the Iowa Caucus (CSPAN, CNN, Fox News, 7 p.m.). It's fun to watch the raw action on CSPAN without the overriding analysts obscuring things.
A report on "Frontline" (PBS, 10 p.m., check local listings) follows the complications of weaning Afghanistan farmers from growing opium. According to the report by Najibullah Quraishi, the farmers, to pay bills, must now borrow money from drug smugglers, who threatening to take daughters if they don't pay up.
I didn't mind the first episode Monday, but tonight's "Celebrity Wife Swap" (ABC, 9 p.m.), in its time slot debut ought to be even better, when Ted Haggard's wife switches place with Gary Busey's.
Seems too soon for the new season of "The Biggest Loser" (NBC, 8 p.m.). This season, couples have been enlisted, but they are surprised to be told that they'll be split up and competing against each other.
Frances Sternhagen guest stars on a new "Parenthood" (NBC, 10 p.m.) featuring a family road trip.
Andie McDowell is the biggest name star snared for an ABC Family series. "Jane by Design" is about a high school girl who is also a fashion assistant working for a demanding boss. It accompanies "Separated at Birth" (ABC Family, 8 p.m.), returning for new episodes.
On the season premiere of "Taboo" (National Geographic, 9 p.m.), a millionaire poses as a homeless man, which was the premise of an old cartoon, if I recall correctly. Also, there's a woman who goes out on a wheelchair though she's perfectly capable of walking. Like that guy on "Glee" (Fox, 8 p.m.).
E.J. Barrett suddenly pops up on "NCIS" (CBS, 8 p.m.) after going missing since the first of the season.
Before he tried to reform Los Angeles schools lunch programs, Jamie Oliver first came to visit the states. Only now is that series, "Jamie's American Road Trip" (BBC America, 10 p.m.) being seen here. It begins, ironically, in Los Angeles, where he is not yet aware of what he'll be facing.
Turner Classic Movies salutes the women of the West with "Belle Starr" (8 p.m.), "Annie Oakley" (9:45 p.m.), "Annie Get Your Gun" (11:30 p.m.), "Westward the Women" (1:30 a.m.), "Mail Order Bride" (3:30 a.m.) and "Montana Belle" (5 a.m.).
It's Michigan vs. Virginia Tech in the Sugar Bowl (ESPN, 8:30 p.m.).
In college basketball, it's Michigan State at Wisconsin (ESPN2, 7 p.m.). In NHL, it's Red Wings at Stars (NBC Sports Network, 8 p.m.), the neteork formerly known as Versus.
Daytime Talk
Kelly Ripa: William H. Macy, Isaac Mizrahi, Tony Horton, Jim Parsons. The View: Meryl Streep, Phyllida Lloyd, Mario Cantone, Joey McIntyre (rerun). The Talk: Drew Carey, Melissa Rauch, Cynthia Pasquella. Ellen DeGeneres: Howie Mandel, Elle Fanning. Wendy Williams: Kyle Richards, Brad Goreski. Rosie O'Donnell: Ru Paul, the Commodores.
Late Talk
David Letterman: Will Arnett, Lisa Lampanelli, Guided by Voices. Jay Leno: Whitney Cummings, Nicole "Snooki" Polizzi, will.i.am. Jimmy Kimmel: Christina Ricci, Mike "The Situation" Sorrentino, Paul "DJ Pauly D" DelVecchio, Vinny Guadagnino, Ronnie Ortiz-Magro, Mariachi El Bronx. Jimmy Fallon: William H. Macy, Sean Avery, Black Star. Craig Ferguson: Carrie Fisher, Matthew Gray Gubler. Tavis Smiley: Vicki Escarra (rerun). Carson Daly: Miranda July, Jeff Jensen, the Horrors (rerun). Stephen Colbert: Sen. Bernie Sanders. Conan O'Brien: Gary Oldman, Mindy Kaling, Everlast. Chelsea Handler: Robin Wright, Jo Koy, Loni Love, Ross Mathews.